Categories:
What's New in the World of Business Process Outsourcing?
The outsourcing industry has taken the business world by storm. Business process outsourcing is a prime choice for companies of all sizes and stature for handling their non-core processes and enhancing their customer experiences. And this trend is apparent across all industries and verticals.
"The $154.5 billion business process outsourcing market is forecast to grow at a five-year CAGR of 3.5% in U.S. dollars (3.9% in constant currency) through 2023. The market will be driven by robotic process automation, digital services and artificial intelligence." – Gartner
A key factor behind this is that enterprises today realize the potential business process outsourcing holds for reducing overall costs and aiding business growth.
Understanding the Importance of BPOs
Support services have evolved with evolving times. The BPOs of today go beyond just taking care of mundane processes. Rather, an ideal outsourcer empowers modern enterprises to digitally transform their customer and partner support services, helping them deliver superior experiences across all processes.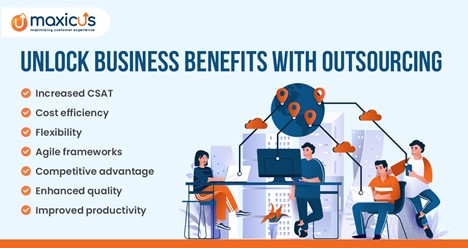 The Resilience of BPOs: Surviving and Thriving Beyond the Pandemic
The BPO industry played a critical role in ensuring that people across the globe were able to transact online and enterprises were able to run the business as usual even when the world was in a total lockdown. Outsources were prompt in revamping their frameworks and ensuring business continuity for their customers, and their customers' customers. BPOs ensured that customer claims are processed on time, e-commerce operations are run smoothly, and timely assistance is provided. This resilience has made BPOs more modern, technically advanced, and better prepared to take on any unforeseen circumstances in the future.
Staying Ahead of the Curve: What's New for BPOs
The paradigm shift in the business process outsourcing meaning can be attributed to the mainstream adoption of technology and going forward, tech will continue to play a major role in shaping up the outsourcing industry of the future.
Let's take a quick look at 5 trends that are making deep inroads into the business process outsourcing industry.
1. Cutting-edge tech like AI, ML, and RPA are increasingly making their space in this market
Modern technology has made it possible for BPOs to further reduce operational costs and bring more efficiency into their processes. AI-based workflows are capable to take care of mundane or repetitive tasks, leaving the BPO workforce free to focus their efforts on more complex and business-critical initiatives. This digital push, with flexible software, robotic process automation, and cloud-based tools, helps outsourcers accelerate growth and achieve even better results for their clients.
In the post-pandemic world, digital is a point of differentiator. And so, it is a business imperative for business process outsources to keep developing their technical expertise to gain a cost advantage and deliver exceptional experiences to their key stakeholders.
2. Omnichannel communication management across all touchpoints is gaining traction
The advent of technology and social channels has made it easier for customers to reach out to brands. Customers today interact with businesses through websites, phone conversations, WhatsApp/Facebook chats, and even social media comments. It is essential for a business to provide a seamless, uniform experience across all these channels. Additionally, businesses must identify and recognize that all these interactions come from the same person. This makes for a homogenous experience for the customer, helping create a long-lasting impression in their minds.
Efficiently managing omnichannel, connected communications needs to be a top priority for all outsourcers in order to remain relevant and competitive in today's dynamic environment.
3. Social media management tools are no longer good-to-have, rather a must-have
Long gone are the days when social media was just a good way to interact with potential consumers. Social media has evolved to become a goldmine of data that, if leveraged correctly, holds immense potential to help enterprises understand consumer trends and expectations, helping them innovate according to the market needs.
Synergies between customer service and social media teams can lead to enhanced customer experience and increased satisfaction. Modern BPOs are bridging this gap by offering nuanced services for social media management, content moderation, business intelligence, customer response management, and addressing grievances. Additionally, BPOs can help businesses run effective campaigns on social media platforms and increase their social footprint through content creation and distribution.
4. Rise of the cloud
Cloud computing, with its plethora of benefits, has been gaining traction in the business world for quite some time now. However, the pandemic vastly reiterated its importance in terms of business continuity, resilience, and uninterrupted operations. For a modern enterprise to flourish, it is imperative to be cloud-ready at all times. Organizations can leverage cloud-based BPOs to capitalize on the cloud's capabilities for scalability, flexibility, and data security.
This is especially critical for small and medium businesses that are bound by budgetary constraints. Rather than shelling out a huge chunk of money on office space and infrastructure, they can partner with outsourcers that have proficient data centers and manpower resources to cater to their cloud computing needs.
5. Not just big brands, but also startups and smaller firms are looking for BPOs
Start-ups are the next big thing, and they need an all-hands-on-deck approach for their core business needs. In such cases, start-ups are increasingly looking to a BPO company in India for taking care of their regular, day-to-day activities. Small firms and start-ups are majorly outsourcing their peripheral functions, including salary and reimbursements, social media content moderation, HR processes, and more. Opting for a specialized BPO to take care of these operations enables them to have a laser focus on their core business growth and strategy management.
Furthermore, start-ups are leveraging a pay-per-use model for outsourcing their processes. Rather than spending a lot of effort and investment in setting up in-house infrastructure, they are capitalizing on cost effective labor through contact centers. Start ups and BPOs can rely on each other for a mutually beneficial relationship and aspire for long term growth.
The Way Forward
The world today is changing at a break-neck speed. In this fast-paced environment, BPOs are taking charge and evolving with the evolving times. Technology is not just a disruptor but also acts as a point of differentiation that can help modern BPOs stay ahead of the curve. Partnering with the right business process outsourcer is a step in the right direction for enterprises that want to optimize costs, improve productivity, and enhance efficiency in the long run.