Categories:
How To Build An Effective Omnichannel Customer Experience Approach?
According to a PWC report, the number of organizations investing in the omnichannel experience has grown from 20% since 2012 to more than 80%. For your digital-age business, there are many ways for consumers to interact with your brand and learn more about your products and services. Consumer expectations are changing rapidly and businesses need to adapt through digital transformation to understand customers and their journey. 
Determine the best approach to retail omnichannel strategy and see how you can create an effective omnichannel customer experience.
Customer Experience
The customer experience (CX) encompasses every aspect of a company's offers, but the most paramount is customer service quality. Customer experience is now becoming an important factor in customers' decision-making. The positive or negative experiences that customers receive at multiple touchpoints now can make or break the brand. Businesses need to follow the latest trends of adopting an omnichannel approach to cater to the potential customer base.
Omnichannel
The term 'Omnichannel' refers to a multichannel approach to sales that strives to provide customers with a smooth shopping experience, irrespective of whether they are shopping online or offline. Omnichannel shopping involves the continuous use of multiple touchpoints at all stages of the customer journey.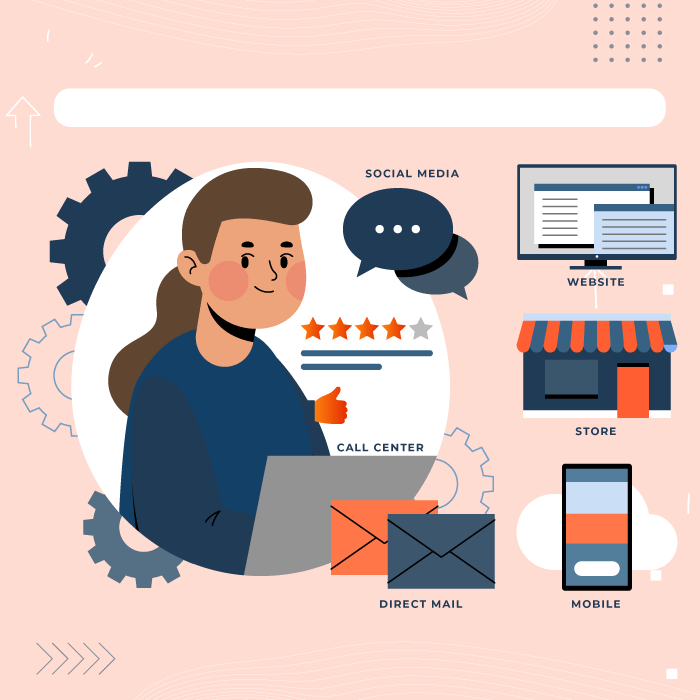 What Is An Omnichannel Customer Experience?
The Omnichannel customer experience is about streamlining all customer interactions across multiple touchpoints to deliver a consistent brand experience and uninterrupted customer service.
Key benefits of omnichannel customer experience
Customers are offered multiple touchpoints to interact with the business.
Great customer retention and sales with integrated online and offline experiences. Companies with omnichannel strategies have 91% higher customer-retention rates.
Improves the quality of customer data being captured and helps in analytics.
Increases CSAT and loyalty.
What is the Omnichannel Retail strategy?
Omnichannel Customer Experience Strategy is a method that helps you create a smooth experience for your customers, through which you sell. Omnichannel Strategy is a sales and marketing approach that provides customers with a comprehensive shopping experience. The omnichannel strategy integrates user experiences across the brand's online and offline touchpoints, including showrooms, point-of-sale systems, the web, mobile apps, and even social media.
Get in touch with our customer experience experts at Maxicus
How To Build An Effective Omnichannel CX Approach
From a consumer's perspective, omnichannel CX provides an ideal user experience that improves the purchase journey. Therefore, handling multiple channels and strategies can be a challenge for businesses.
The following approaches can help you to improve the omnichannel customer experience.
[1] Identify the platforms, digital channels, and media that your existing customers frequently use to communicate. Gather and analyze customer preferences, experiences, and pain points to adjust your strategy accordingly.
[2]  Build a buyer persona by creating detailed customer identities that include characteristics such as demographics, social status, shopping habits, preferences, and mode of communication. This process helps to make a detailed customer journey map and obtain the highest customer lifetime value.
[3]  Segment buyers based on their gender, geography, purchase history or interests, customer loyalty, past engagement level, etc. Determine the tastes of your target buyers to personalize your marketing, sales, and services. The majority of CRMs support the integration of omnichannel CX automation. Rule-based groups can funnel customers according to their preferences.
[4] Integrate user experience from start to finish through customer journey mapping. Include multiple trips in a single operation. To identify key touchpoints you need to trace multi-channels and find ways to streamline and enhance them online or offline. Analyze the customer's journey and work to improve it. Study the potential value-addition of each touchpoint to solve any problem.
[5] The Omnichannel strategy can range from text messages to pushing notifications. For effective business strategies, you should prioritise your customers' preferred channels and the tools that enhance customer engagement. For example, your customers may ignore calls and prefer email or chat support.
[6] Integrate all channels by interfacing between the online and offline touchpoints by adopting the right set of technologies. Integration makes it easy to track your customer's engagement at each touchpoint. As a result, you can work on keeping the user experience uniform, no matter how many stages the customer has gone through, from reading about your store online to visiting the physical store to purchasing on a mobile app.
Integrate communication channels by flawlessly connecting cross-channel customer support. Listening to VOCs (Voice of Customer) helps to maintain the enhanced CX by adding brand value.
[7]  Set KPIs and assess them by analyzing data across channels. Get direction from analytical reports from the customer feedback surveys.