Categories:
How can banks safeguard themselves using an e-surveillance service?
The adoption of e-surveillance service is undeniably impacting industries all over the world. Small and large banks and other financial institutions are no different. They are embracing a progressive and productive mindset to go digital in order to secure branches, ATMs, and so on.
"By 2023, the video surveillance market is projected to be worth $62.6 billion, with infrastructure applications forecast to make up over 36% of the global market. (Source)"
As a definition, e-surveillance (Electronic surveillance) is the monitoring of a commercial or personal property. Today, financial institutions can monitor their bank branches or ATMs remotely as well through mobile phones, tablets, and laptops. For instance, they can monitor all ATMs in the city simultaneously sitting in one main branch using video surveillance as a service.
6 benefits of live video monitoring outsourcing for commercial offices
Why e-surveillance service is the need of the hour for the BFSI industry?
We have discussed every detail about the above-mentioned benefits in the detail below. Let us look at them one by one and understand how banks are a key teller to customer experience and how they act as a key teller for security.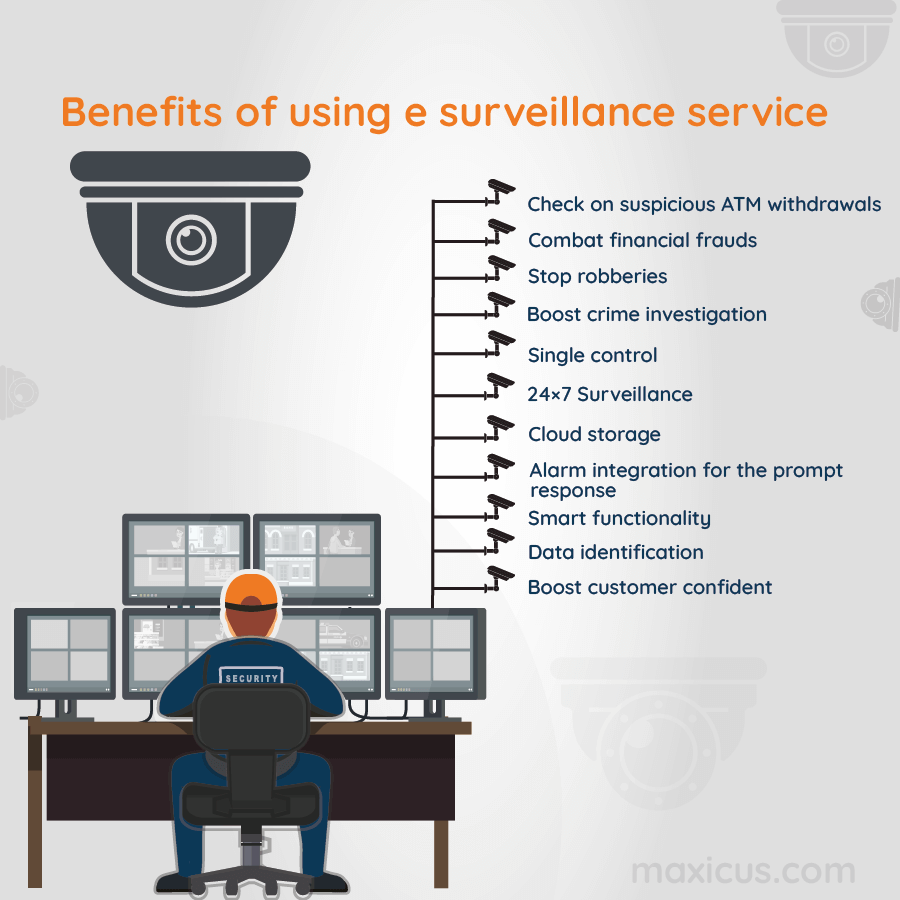 Check on suspicious ATM withdrawals
This is the most common concern for banks and financial institutions in an effort to protect peoples' money. Customers cannot report phantom ATM withdrawals, where the cash has been withdrawn from their bank accounts without their knowledge. Here, e-surveillance has contributed to a fight against these frauds. Installed CCTV cameras equipped with video analytics and object tracking with video & audio recording which monitor every ATM transaction can give answers to such events like these.
Combat financial frauds
Advanced e-surveillance service includes superior video analytics which helps in combating financial frauds at branches by recording transaction data and capturing images of the culprit. It also builds 'the fear of getting busted' in case of any financial manipulation activities. Therefore, it is a great aid to safeguard customer accounts.
Stop robberies
Bank branches and ATMs remain to be top targets for thieves looking for a good amount of cash. Deploying the best surveillance service through advanced CCTV monitoring keeps off the robbers and makes sure the customers' money is safe.
Boost crime investigation
In the worst-case scenario, if any robbery takes place within the surveillance area, it will get you crucial shreds of evidence in the form of videos and images for the enforcement to take immediate action. E-surveillance can help you to identify and track down suspects. This will help speed-up the investigation.
Single control
Todays' banks are looking to reduce costs by working remotely. An e-surveillance service transmits images and video footage of multiple branches and ATMs to a single host. This footage are monitored by the team sitting in a monitoring control room or can be checked over the internet from any part of the world. Therefore, the audit and controls become very easy. It saves banks from appointing staff at every ATM or branch, making it is a cost-effective and hassle-free process.
24×7 Surveillance
E-surveillance service offers 24×7 around-the-clock surveillance of banking facilities, protecting on week offs and holidays. The 24×7 monitoring is mandatory for ATMs as these are accessed by people 24 hours, seven days a week.
Cloud storage
By leveraging cloud-based video surveillance banks are making storage and management of the images & videos easy, convenient and accessible. It offers flagship search techniques that allow pinpointing particular events and identifying culprits with higher accuracy and more efficiently.
This is commonly referred to as video surveillance as a service that includes video recording, storage, remote viewing and management alerts, and so on.
Alarm integration for the prompt response
In modern-day e-surveillance service, CCTV cameras installed in bank branches or ATMs are integrated with alarm into a single network. This makes security personnel intervene immediately and is a must-have security measure in banks these days.
Smart functionality
Smart e-surveillance service with equipped advanced sensors such as motion, vibration, smoke, heat detection and video analytics can be utilized to identify and prevent unusual or irregular activities inside and around the branches or ATMs.
Data identification
E-surveillance services are capable of identifying advanced forms of data and leveraging Machine learning (ML). This is useful in scrutinizing the footage for particular bank transactions and images of specific selves.
Boost customer confident
Customers or account holders are at the center of every bank and financial institution. Therefore, the principal concern for every bank is to gain and enhance customer trust. Customers are putting their hard-earn money in your bank, it is your job to secure that with the best possible efforts. The more protected banks are, the more assured their customers will be. A successful e-surveillance service does best in improving this sense of security and promoting its reputation and credibility in the market.
A closer look at outsourcing video surveillance system
What challenges do banks face to deploy in-house e-surveillance service?
The BFSI industry is a very regulated sector and follows strict norms as per RBI guidelines. It is not uncommon that the BFSI sector is bound to face few challenges when try to implement an e surveillance service. Read below to know more.
Unorganized ecosystem
Monitoring various branches and ATMs simultaneously is a challenging task. The monitoring team switches between platforms in order to manage several tools taken from several vendors. This eats up a lot of lime and hence, security gets compromised.
Deploying staff to monitor
Hiring staff to monitor all branches and ATMs spread across the city or region will be highly expensive for banks. 24×7 surveillance is needed and, for that, bank has to onboard maximum people, spend on their salaries, etc. will definitely go out of budget.
Retrieval of footages will be tough
Recorded footages are crucial for banks which will be needed later for various purposes. There will not be a point in having a surveillance system in place if it cannot provide the footage at the required time. Here, banks will struggle because of the absence of the platform to store the footage. Even if they manage to get one, it will be limited and extremely expensive.
Maintenance
The long downtime of e-surveillance service in ATMs or in branches can be a matter of huge concern. Unable to get real-time notifications and the absence of information keeps the security arrangement in no light. This is simply an open invitation for robbers or fraudsters. Visiting every branch or ATM to manually check the device's health and fix the error is very costly and time-consuming.
Get 24/7 protection with Maxicus e-Surveillance Monitoring
Outsourcing is the solution
In order to make the most of surveillance-as-a-service and overcome the above challenges, banks and financial institutions should hire an e-surveillance service provider that offers a unified surveillance ecosystem to counter such challenges. The unified surveillance ecosystem integrates advanced tools with legacy devices in an effort to cause a hindrance to crimes with real-time as well as event-based alerts. Outsourcing advanced e-surveillance service offers a platform that allows cameras and IoT based sensors to connect and can be customized as per convenience. Outsourcing partners offer the VPN connectivity as a backup for continuous and uninterrupted CCTV and alarm panel functioning if in case primary connectivity sinks. As well as an expert team will take care of the maintenance, they will notify and fix the moment any device such as the CCTV or sensor stop working or in case of any vandalism and burglary.
Maxicus blends surveillance and IoT products into a unified e-surveillance service that is monitored and managed by professionals.