Businesses across industries face the common challenge of turning mute data into actionable information. Being unable to make measurable impact on their business strategies, they lose out on various opportunities for growth. Data and analytics can revolutionize revenue management and by providing credible insights into your business as well as consumer demand and behavior.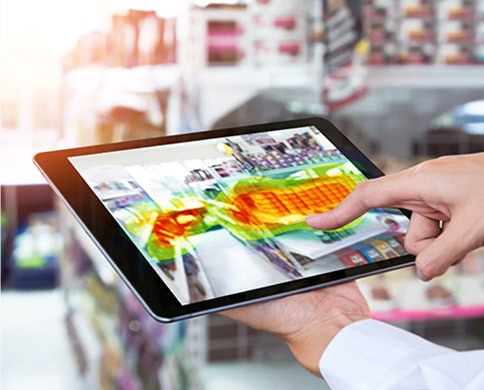 Enabling machines to see and analyze environments
Computer Vision allows for machines to see and interpret visual information. The revolution this technology has brought to the surveillance industry is unparalleled. With easier, more convenient ways to keep an eye out for safety, security and hygiene and business efficiency, Maxicus has created a niche for itself in the market by merging its capabilities with that of technology.
With Maxicus' e-Surveillance capabilities, be assured of video-based analytics powering your business processes. Because there is more to data than it seems.
Get in Touch
Video Analytics & Object Detection Portfolio
---

People Counting
Get data on walk-ins and conversions to identify and improve engagement with your customers. Analyze sales performance, wait time, and visit frequency of customers to strategize business development and marketing campaigns better.

Energy & Space Management
With data recorded for units of energy used and adherence for workplace hygiene, smart video analytics will allow for efficient utilization of resources and space. Essential for warehousing and retail businesses, video analytics enable you to take the necessary steps to save more.

Adherence to Operating Procedures
With technology that is intelligent and competent, keeping a close eye on adherence to Standard Operating Procedures just got easier. Maintain workplace hygiene using actionable data on open-close timings, inventory management, etc.

Perimeter Guarding & Security
Video analytics for perimeter guarding and security of workplace premises allow you to be present even when you're not. With line-crossing alarms, and smart cameras looking out for you, be rest assured of the safety of your business.

Object Detection
The goal of this function is to discover the presence of an object within the camera frame. To be able to detect and differentiate the presence of an object from the background, edge, boundaries, and pattern detection algorithms are deployed.

Tracking & Recognition
Machine Learning algorithms learn and develop with experience. A tracking algorithm will ideally follow and locate an object of interest, upon detection and recognition; giving the user a detailed journey of the object from one location to another.
Business Benefits Delivered
---

Retail Outlets

Warehouses
QSRs

Workplaces & Offices

Banks & ATM Branches
Customized solutions as per business needs
Higher Return on Investments
Unified, Cloud-based platform for 360o view
Actionable Analytics for better strategizing
About the Client
Get Complete Case Study
Key Takeways: