Categories:
Why email support is an important part of customer support strategy?
We live in a world where unresolved issues can hamper your reputation and everything a customer desires should be available in seconds.
"56% of the customers say that they will never prefer customer service after a poor experience." (Source: ProvideSupport)

"52% of the customers say that they will recommend their family and friends about the experience after a positive customer service response." (Source: ProvideSupport)

"54% of the customers usually escalate to a supervisor or manager after a poor service experience." (Source: ProvideSupport)
Email support is a very effective customer support channel that uses emails for customer queries.
Simple as ABC!
But, no one likes to have a labor-intensive customer support process in their organization, right?
The digital world and the Covid-19 pandemic have changed all of our habits. From exploring answers to finding product-related information on the go; digital channels like live chat support and email support have made it possible for customers to expect instant results to all their concerns. Not just this, customers now expect quick query resolution and instant purchase journey.
62% say that email support services are a preferred way to communicate with brands. (Source).
Sounds, good? Now, let's understand why do brands say so.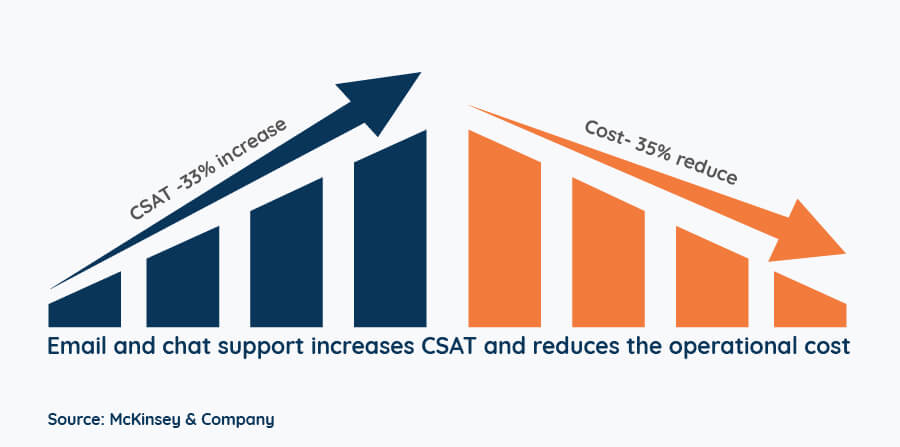 Here's why should you include email in your customer support strategy
The simple reason is that it increases customer satisfaction and reduces operating costs. Businesses certainly wouldn't want to miss out on the merits this channel has to offer for your business. Know some of the important pointers listed here to help you understand what makes email marketing strategy efficient for customer support:
Trustworthy
The trust factor in an email is far greater than other channels of support. When a complaint is written and documented over email, the customer finds that their concerns are taken seriously.
Accessible
With the pervasion of smartphones, most users have easy access to their emails at all times, although they are on the move. With emails configured into these smart devices, consumers can get ready support at the time of their convenience.
Cost-efficient
Your email support system can be easily integrated into other channels like voice or chat support. It does not cost you a fortune but shows tangible results; always increasing your ROI.
Attach Files
From attaching bills and tickets to interesting graphics to keep your user base engaged, there is not enough that you can showcase with email support. Customer support through email also allows your customers an option to attach faulty deliverables for which they may be seeking support.
Traceable
With ticket numbers or user IDs, support through emails can be traced back by the support team as well as by the user. This allows both parties to keep a check on whether or not an issue was resolved in time.
Perfect for busy customers
Email or chat support also draws a professional touch and is more convenient for customers who might be busy. Businesses are required to take special and personalized care for busy customers. They lack time to wait in queues while calling customer care and get frustrated if they have to. Email support acts as a catalyst for businesses to manage this kind of customer. This segment of customers can instantly type their emails and send them without wasting a single minute.
Detailed issues and solutions can be explained
Using email support, customers can comprehensively describe their concerns by adding all the essential points of their queries. They don't get this advantage using different channels like call or chat support as it is difficult to explain their issues with full details due to lack of time. Just like customer concerns, agents can also provide solutions step by step in detail by understanding the issues better. Email support works as a boon to customer satisfaction.
Customer feedback surveys can be conducted
Most customers do not leave feedback after a post-purchase decision. Besides this, brands can also conduct feedback surveys to ascertain their NPS and CSAT scores while sending brand updates and suggestions for upselling or cross-selling. Mapping customer behavior is a very important move when businesses are striving to provide a delightful customer experience. Through email support, businesses generally slide in important customer feedback surveys that help in measuring customer behavior and work on improving product/service.
To increase the chances of sending personalized feedback, it is best to send it to a customer once they have availed services from your brand.
Omnichannel support all the way
A stronghold on email support can take a business' customer support strategy a long way. While email is an integral part of the support for customers, your business would still need to be available across multiple channels. Having integrated omnichannel support not only enhances your customers' experiences but also adds to your brand's value as a customer-centric product/service provider. This saves you from the hassle of multiple dashboards and programs to provide seamless integration for exceptional customer service.
There's no single recipe for what works in communication with customers. Whatever they prefer, a brand must follow.
Think beyond canned and auto-generated responses
Customers don't interact with the customer support service of any brand, without any reason. As a consumer, you expect the desired support if you are spending money on buying their product or service. Customers want complete information and details about the solutions and that is how they choose to email instead of choosing other channels of communication. Therefore, a generic canned response or an auto-generated reply can upset and they might withdraw their trust from your business. Once the customer's trust is gone, the customer may drop and switch your brand and might not rely upon it for their needs. The bad experiences of these customers can make you lose potential customers too. They will never recommend their friends or families and might share their poor experiences on social media platforms. By email or chat support outsourcing, businesses can address customer concerns properly and enhance overall customer satisfaction levels. Email support outsourcing ensures that customers are handled long-term with utmost care.
Get expert email support outsourcing services today
Conclusion
Most businesses consider outsourcing chat support services as the best path to develop and maintain customer loyalty. For a business to be available across all channels at all times, outsourcing email support is a more viable option. Why is customer service important? We are sure you now understand it for all of your business needs after going through our insights. With email support representatives equipped to take on all kinds of queries, leave it to the email customer service outsourcing experts to transform dissatisfied customers into the biggest endorsers of your brand. To know more about our email or chat support outsourcing services, contact us here.