Categories:
Top 9 benefits of cloud storage monitoring solution
The cloud storage monitoring solution is referred to as the process of storing surveillance data and footage in the cloud. Advanced CCTV monitoring systems usually store video footage on the cloud storage interface unlike the traditional method of CCTV monitoring. Video surveillance storage solutions offer businesses an effective way to scale data storage to meet the demand. It is not bound by the short-comings of on-site recorders and other heavy equipment; hence cloud video surveillance is gaining rapid popularity in the business security management market. Let's check out an interesting statistic.
Encompassing security management, the public cloud services market is expected to reach around $257.5 billion in size and by 2022; the market revenue is forecasted to exceed $362.3 billion. (Source)
How does it work?
With cloud data storage, video footage is saved in a centralized location. It can be accessed virtually from any part of the world and anytime with an internet connection. As the data is stored virtually, it can even be shared easily with anyone and even remotely. Unlike traditional CCTV monitoring, cloud storage monitoring tools don't need technical configurations to facilitate remote accessibility. The cloud storage monitoring solution provides 24×7 remote accesses to video footage; therefore, it is a better option for businesses.
10 Tips to choose the right cctv surveillance service provider
Top 9 benefits of cloud storage monitoring solution
Cloud storage monitoring tools are becoming the backbone of the e-surveillance ecosystem. Cloud storage monitoring solution offers completely private cloud data storage and backup options with strong security measurements. Below we have discussed more benefits of having cloud storage monitoring solutions in place.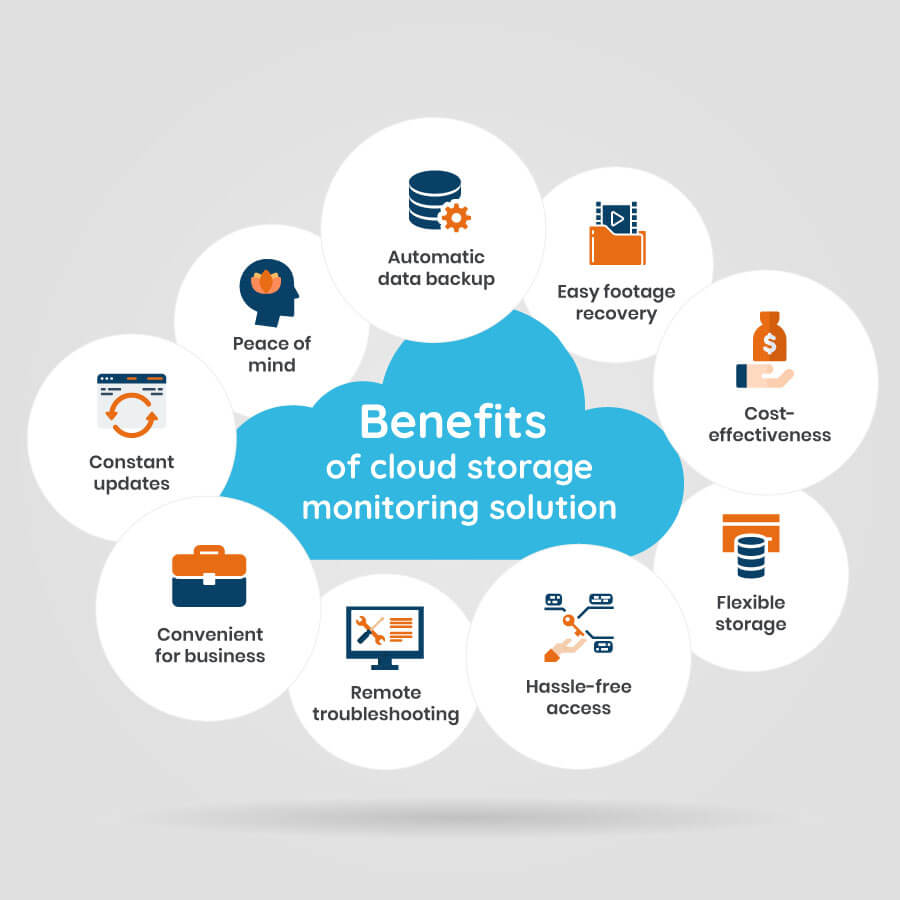 Easy footage recovery
Suppose a massive fire broke out in your office and all your computer systems are burnt along with storage devices where all your surveillance footage is saved. How will you recover the data for investigation?
Therefore, cloud storage monitoring is pivotal to combat these circumstances. It allows saving the surveillance data at a centralized server or cloud, which can effortlessly be accessed from any smartphone, tablet, or laptop devices.
Automatic data backup
Video surveillance storage solutions take a back-up of the footage off-site, automatically. It solves most of the issues because even if your CCTV camera stops functioning due to a technical bug or malfunction, do not worry the cloud will safeguard your video footage. Here, the perk is that you will still be able to access it and check the footage without getting angry. Advanced cloud monitoring systems are equipped with a limited source of extra storage, on-site. This is useful in case of an unstable internet connection.
Cost-effectiveness
Managing cost is a top concern for businesses. With traditional monitoring systems, a business had to spend a lot to install the surveillance infrastructure before the installation of cameras. The initial outlay such as hardware, storage devices, and labor would take a lot of time and money to get started in full form. In cases of multiple office surveillance in a traditional non-cloud monitoring system, each location requires its server to operate. Cloud video surveillance eliminates these upfront expenses and proves to be very cost-effective in the long run. Thus, it makes a great value with the quick configuration in low-level support without extra bucks.
Flexible storage
Security cameras produce a huge amount of data daily. To store this footage for long has become impossible for a non-cloud surveillance ecosystem. The traditional video storage monitoring stores in limited hard-drives and it had to clear the footage early to free up space for the next recordings. But with cloud storage monitoring you can store more data. If your cloud storage is filling up and you want to keep the footage for a little more time, in that case, it allows you to get more space at a minimal cost. Cloud storage is flexible enough to accommodate all your crucial video footage and you can store them as long as you want. It is better than buying another expensive hard-drive and you still might have to worry about the footage getting corrupted or stolen in case of traditional video surveillance.
Hassle-free access
You can indeed access cloud storage monitoring systems from anywhere in the world. The ability to access your recorded footage anytime is a big advantage. You can even share the footage when needed. For example, when you are away from the office, you want to know when a specific employee came to the office on a specific date. You can straight away go to the cloud and get it checked. The cloud storage ecosystem has been designed in such a way that it empowers remote operations.
Remote troubleshooting
Cloud storage monitoring tools are also easier and cheap to maintain. You can carry out possible troubleshooting in case of a lag in the opening without a physical presence in the control room. The client prioritizes cloud monitoring solutions mostly because of this option. Its ability to provide a quick fix solution, wherein you do not have to depend upon on-site technicians and hurrying up in emergency cases, definitely makes it a preferred choice for the organizations.
Convenient for business
For a business, managing their office space is an important part. With traditional surveillance, a huge amount of hardware is involved. Suppose your IT room is full of hard-disks that have video monitoring footage and at the time of need, the IT team needs to search them. Now, due to limited office space, they have to keep it in at other office places. However, when you tap into cloud storage monitoring, all the footage will be at your fingertips in no time in an order that you prefer. You can search and find them from the cloud. Besides, it saves your office space which can be used for different purposes. This is surely a big convenience for your business.
Constant updates
Constant updates are necessary to ensure the seamless functioning of your surveillance storage management. Unlike traditional surveillance storage systems, cloud storage monitoring ecosystem updates itself without disrupting the operation, and you don't have to enforce it. It doesn't require any on-site equipment, therefore, no hassle. A cloud-based video surveillance storage solution, indeed, reduces the complexity in the installation of storage management.
Peace of mind
More conventional access to recorded footage allows businesses peace of mind. They feel assured in their head to recover crucial video or images. It gives them the confidence to respond with evidence, promptly and in an effective way to unlawful activities inside their office or warehouses.
Get 24/7 protection for your property with Maxicus e-Surveillance Monitoring
Conclusion
Cloud storage monitoring solutions ensure the possibility of unlimited recording and managed control. With more agile and less disruptive installations, we at Maxicus, provide the best cloud-based video surveillance solutions for your businesses.