Who should outsource sales and who should not?
Should:
 There are several perks of outsourcing your sales process compared to having an in-house sales team. Is your business the right fit for outsourcing sales? Let's find out.
Companies already have their in-house sales department, but falling short in achieving revenue targets.
Companies have limited resources like office spaces and a low budget in investing money on hiring.
Startups aspiring to boost their sales target and revenue.
Businesses that have a proven sales team but are looking to add more to sales performance.
Companies facing language barriers to selling their product or service in India in order to capture the local markets.
Should not:
 Just like the businesses having excellent deals for outsourcing, there are a few others who are not really meant for outsourcing. However, the number is quite insignificant.
Companies are satisfied with their business performance and not ambitious to grow big in terms of revenue.
Businesses that are hesitant to take the risk and give semi-control to a third-party are often better off selling themselves.
From a logical point of view, having an outsourced sales team can be incredibly effective, but it is not a silver bullet to solve all of your business challenges.
Why outsourcing sales is good for your business?
Companies can outrun their rivals if they have an effective outsourced sales team in place. It can drive their business forward by achieving sales goals. Especially, outsourced sales for startups can be another way to gain market share faster and hedge their investment and risk. Another good reason to prefer it is to gain a competitive advantage. On top of it, outsourced sales management experts who understand all of the business well will solve a long-standing problem for business growth.
What can you as a business accomplish with an outsourcing sales management in place?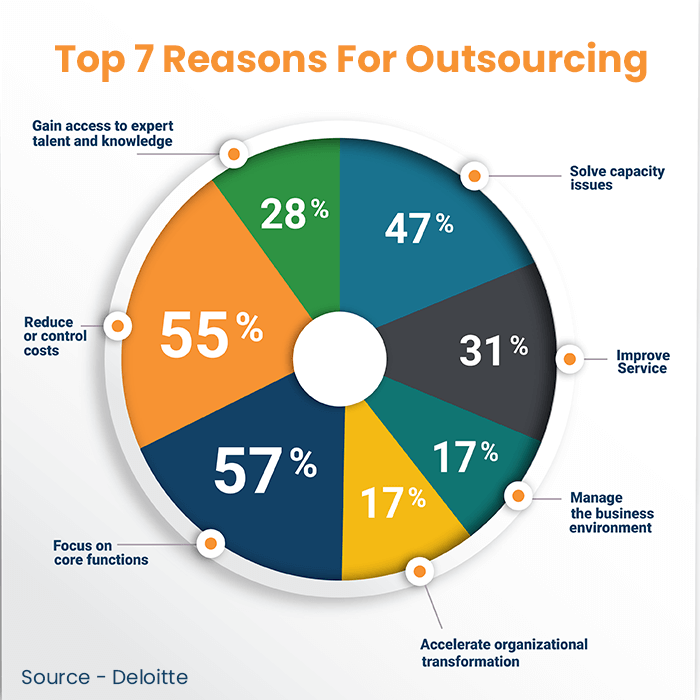 Increase in revenue
First and foremost, an expert sales outsourcing partner can push sales growth effectively. It will reduce your expenses on marketing, hiring, training & retraining, managing and retaining sales executives.
Get to the market faster with well-trained and knowledgeable professionals
If you had an in-house team, keeping your sales executives trained with new technologies & software which are always up-to-date will definitely not only be expensive but also cost you time, effort & resources. Outsourcing sales functions can give your project off the ground real quick. Outsourcing providers have a team of knowledgeable professionals on the deck for you as and when you need them. In the age of rapid technology innovation and software updates, it is better to go ahead in your business goals with an outsourcing professional who has experience in sales.
Saves time and effort
As a business owner, you must be handling a million things on a daily basis. Now, once you outsource your sales functions, you can start focusing on innovation in your product or service; develop networking, and identifying new opportunities. You will save ample time and effort to prioritize other valuable aspects of the business. Especially, in B2B sales outsourcing, it assures you that quality work will get delivered on time and within the given budget.
Improves customer engagement
Companies that tap into the outsourcing sales model with the omnichannel approach strengthen their sales performance. Reaching customers at their favored touch point certainly improves customer engagement. Also, the outsourced team equipped with digital engagement channels attract customers which results in enhancing NPS (Net promoter Score) and builds a positive brand image.
Access to infrastructure and latest technologies
Today, it is not about having the latest tools and software but rather having the expertise and experience to leverage this infrastructure to boost sales. With outsourcing sales operations, you get both at a low-cost. It allows businesses to reach the market faster and they can invest this time, money, and effort in new product/service development.
Which type of sales can be outsourced?
Sales outsourcing services depend on clients' specific needs and business goals. There are mainly four types of sales services that are generally outsourced. It includes cold calling, telesales, lead generation and upsell & cross-sell.
Cold calling
Cold calling refers to a process when a sales executive makes a call to a lead, in an effort to establish primary contact and pitch their product/services. This can also include following up on a prior interaction. Cold calling is a kind of outreach where sales representatives contact potential customers from the database made by the company only. In this, the sales representative can only access the basic information of the lead such as name, job title, organization which makes the customer engagement easy. Also, by leveraging research and buyer personas; the sales executive understands the specific concerns of the leads before placing a call. According to a survey, 78% of decision-makers have taken an appointment or attended an event that came from an email or cold call. (Source)
Telesales
The process of telesales is basically generating leads and making sales through a telephone call. Telemarketing is a tried & tested method of making sales. Convincing leads to buy your product/service takes a lot of skill, knowledge, and proper training. This telesales approach is a go-to formula in terms of sales. With telesales outsourcing, you expand your customer reach, especially in online business where customers cannot visit the stores. It breaks the location barriers and generates sales for you. Telesales can be also used as a tool for marketing along with making sales to the customers.
Lead generation
Simply, lead generation is a process of drawing attention and converting prospects or leads to investing in your product or service. It creates indicated interest in leads through lead generators such as blog posts, coupons, job applications, online content, live events, etc. Once the prospect shows an organic interest in your product or service, it is a no-brainer that the transition from lead to a customer will be a natural phenomenon.
Upsell & cross-sell
Up-selling is the act of providing leads or prospects an option to buy the product or service that is somewhat better than the one they are looking out to purchase. In order to make an upsell, a sales executive offers a more costly product or service. They recommend an upgrade or influence the prospect to buy the better and expensive one.
Similar to upselling, cross-selling is the practice of pitching prospects additional items or services that will go with the one they are currently buying. In order to cross-sell, items that complement a product or service are usually recommended to buying along with existing purchases.
Tips to improve sales team performance
Establish trust
The key to reaching the peak of sales is to understand your leads. Once you know what they want, you can optimize your resources accordingly. Millennial buys appreciate the fact that businesses should know their preferences and customize their product/service as well as adjust their sales pitch. Build trust and credibility in front of your prospects by acknowledging their choices how-what-where they want it. Meet them accordingly. Going with a smart and intuitive approach while pitching your offerings to the prospect helps to close more deals.
With time, customer behavior has changed but irrespective of the method, earning the trust of the prospects has been the most important thing to consider. Sales executives must build a rapport from the very first engagement. Make this your topmost priority.
Organize one-on-one coaching
The more you polish, the more it will shine. This holds true in such a case wherein, once you start coaching your sales executives consistently, they deliver better results. Businesses know with a change in customer behavior, market changes. Keeping a track of the market's best practices, trends, and educating your representatives is crucial to closing sales. Providing one-on-one training can be extremely beneficial as you don't want to miss out on a single opportunity to make a sale. More the preparation of your sales executive, the more they have a chance to crack any deal.
Become data-driven
While engaging customers during sales, the customer can be skeptical about your product/services. It is difficult to convince customers about your offerings even if they trust you in order to make them avail it. Once you carry data and facts in a precise manner along with it, for example, how your product has become the best choice or customer satisfaction rating for the services you provide will help customers make the decision-making process better. It will be easier to claim any information with relevant data.
Present those valuable insights, solid market infographics, comparative analytics to gives a definite impression to the leads. This makes them sure that you understand their preferences and have the best interest for them.
Personalize incentives
Providing an incentive to agents is another way of boosting sales performance. Once a sales executive feels motivated, they will go beyond their limit for you to convince the prospects to purchase the product/service. Channelize this effort of your representatives in different stages of the sales process. From lead conversion, prospecting to cracking the deal, setting a benchmark for executives, and watch your sales take off.
Of course, set a realistic target during this whole process. Make it playful and ensure maximum participation. Giving incentives, not only in terms of money but also announcing them as champions and experts on the floor will help them work beyond their potential. Give them a preference when you plan a job promotion to give another boost to their confidence.
Challenges in having an outsourcing sales team
Not a dedicated resource
Big enterprises find this a challenge. It would be justified for large companies to have a full-time sales team in-house only if they are consistent and perform well. It would be challenging for them to outsource another set of sales professionals, and target particular customers or clients with which, the in-house team may be already dealing.
Less control
Businesses fear that outsourcing the sales team will make them lose control over customer relationships and the overall sales process which is quite a wrong notion. Outsourcing your sales team can help you earn more control. Businesses can simply outline the process and can track it closely through a dedicated sales CRM (Customer Relationship Management) tool. Customers know what product or service they are spending money on, irrespective of the sales executive, whether it is in-house or outsourced. The sales executives only have an interaction-specific customer relationship and this doesn't define the holistic relationship between the business and the customer.
Loss of data
This is a classic example, often provided by the anti-outsourcing brigade. Understandably, customer data or information is so sensitive; it's like the bank balance of any business which deals in customer experience. It is believed that the outsourcing partner builds up its infrastructure and network and denies access to the data to you. The fear of transparency may creep in the mind of the business owners to outsource any activity.
This might happen when it is not structured correctly. Choose an outsourcing partner who understands your business compliances and get involved in the sales CRM and meetings, and regulate all proposals and pricing.
How to find the right outsourcing partner?
Hire like a full-time employee
Today, there are countless outsourcing companies out there. Finding the right fit can be a difficult task. Businesses should assess each company as they would while they hire a full-time employee. First and foremost, background checks are mandatory. Also, validating references and obtaining feedback from the market is important.
Engage them in discussions and clear all doubts and concerns. All of this helps to build a working relationship of trust and accountability.
Expert domain
Every outsourcing company is dedicated to some expertise in their work. For example, few specialize in a specific industry and some exercise their expertise in a specific work like sales appointment setting or some are renowned in telesales outsourcing. Also, some companies can be experts in more than one industry or more than one process work. It is on you to ensure that the outsourcing partner you choose should have expertise on the work you are looking to outsource.
Analyze in-depth
Once you have shortlisted a few outsourcing sales companies, it is crucial to check the strength and skills you desire. Properly analyze their skill set, qualities, language proficiency, and level of expertise. Besides these, also find out data on their previous work experiences, manpower, and other business needs. Getting all of the above checked will help you to find the right fit for your business.
Budget should not be the bottom-line
Last but not least, an important factor while looking to find a partner in the budget. In most cases, the discussion starts and ends here when you plan to outsource your business activities. When it comes to sales, the outsourcing budget should not limit you. Always remember with quality, there might be a high price which comes with it. Reducing cost is the most important thing in outsourcing but it should never compromise the quality. You want to build a brand and grow your business. Concentrating too much on the budget might ruin the whole strategy of outsourcing in the first place. Find a company that provides a reasonable price with quality. You should not shy away in pushing the budget when there is a skill, quality, and experience. The partner doesn't have to be a giant name but if they have a successful outsourcing track record of proven career, you should go for it.
The goal of outsourcing the sales process is to build an incredible sales force that will boost revenue by attracting and converting leads into loyal customers and develop a long-term relationship with them.