The impact of COVID-19 is undeniably all-encompassing. It has disrupted human lives and businesses alike. Especially for Manufacturing, Travel & Transportation, Retail, and Energy & Resources, and needless to say the BPM industry. The impact is both broad and deep. This latest research from Statista shows the real numbers.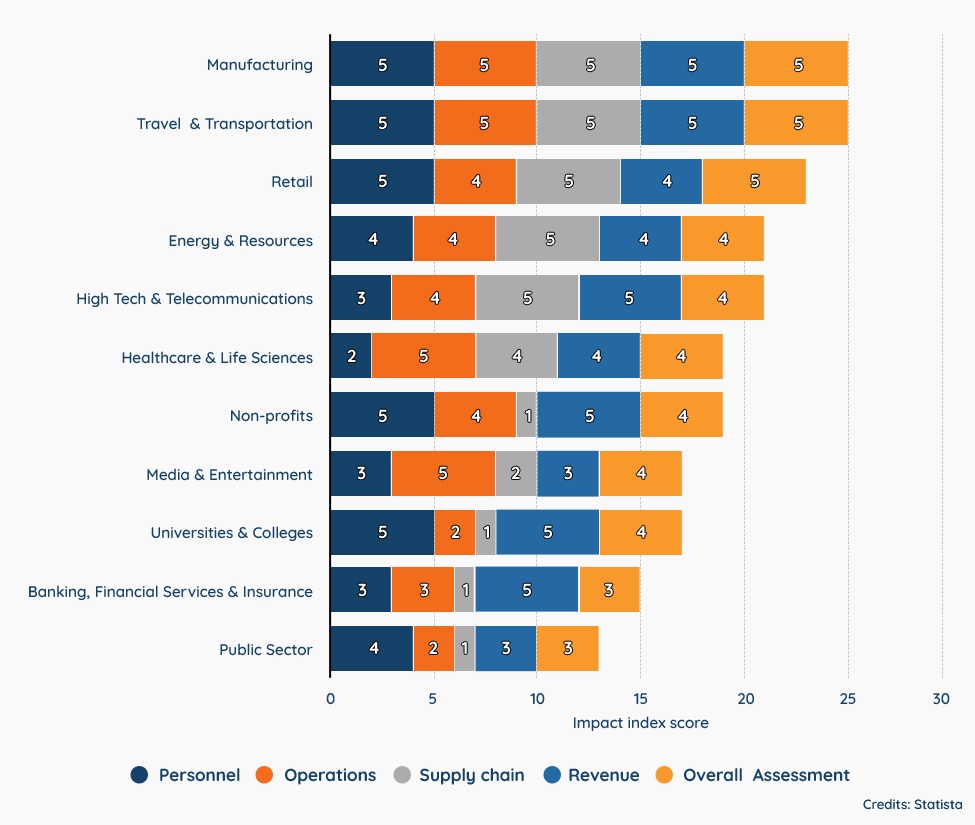 Given how circumstances are panning out, I am reminded of the 3 stages from Survival to Success to Significance by John Maxwell.
Survival is the natural human instinct
The countrywide lockdown unleashed a juggernaut. All BPOs, though unprepared, took the plunge and quite honestly, frantically shifted to the work-from-home model. Basic infrastructure was arranged to keep business running — a PC, internet, and basic VPN connection were established to ensure the companies at least remained connected to their buyers and sellers and run the show. About 72.60% of people run on Mobile hotspot for home internet as per a recent study. Some small security measures were put in place to have control over the data flowing between their data centers and employees' homes.
Now, the point is the desperate need for Survival overshadowed everything else. Data security, productivity, and quality of service that were deemed sacrosanct in usual business were ignored. For instance, a couple of days ago I was on a call with a customer care executive of my AC manufacturer to register a complaint and he started yawning in the middle of the call, as if oblivious of the fact that he was talking to a customer.
Sacrifices have been made by brands on the kind of service that was provided to their end-customers, given the scarcity of manpower and remote technical infrastructure. But with improvements in operational strategies and remote contingencies, this stage is largely over for the bigger BPM players.
Fast forward to the stage we are in — Making it a Success
As per a Statista study, 64% of Enterprises and 53% of providers say local broadband infrastructure is their biggest challenge for work from home.
But employee remote connectivity solutions are now being upgraded for better service. And the focus has shifted toward employee monitoring in order to enhance Productivity and Security, and deliver Quality of Service to avoid penalties & earn rewards. More and more outsourcing companies and their clients are trying to find the right Work From Home platforms to solve these three challenges. There are only a handful of solutions on the market that meet this demand.
For instance, here at Maxicus, we managed to move over 600 agents to work remotely for our clients with Leap. This WFH, Virtual Call Center tool has enabled our agents to work as seamlessly as they did at our delivery centers. With regular monitoring and quality checks for data security, our clients have experienced no hiccups in their outsourced business processes.
The current crisis has turned the idea of localized workforces around. Companies traditionally always wanted their outsourcing partner's office at a stone's throw from their HQ. That is now changing. Businesses are now strategizing to create a Distributed Workforce Structure and set up their outsourcing centers remotely and in Tier-2 or Tier-3 cities to de-risk and plan contingencies.
But, to make it a success, everything from hiring to onboarding to training and operations management needs to be digitally transformed.
Leading to Significance
While bigger players in the BPM industry had to work on immediate short term footing to keep the lights on for their enterprise clients, new business models began sprouting.
A typical work from home delivery model can save up to 20% support cost for companies. For a size of 1000 Service Reps, it could mean an easy $2 mn savings per annum. There's tremendous potential. Other benefits are increased happiness quotient for employees, reduced employee turnover, increased productivity (eventually), access to the large, untapped talent pool, and environmental protection.
Given the situation, businesses and their clients have come together to ensure wellbeing for employees. As a business trying to weather the crisis with numerous clients, we noticed that our partners unanimously showed concern and empathy for our teams and agents as we walked them through our response to the COVID-19 situation.
Who knew that social distancing and lockdown orders were going to bring us closer as a race; projecting the values of a unified community?
Real significance, right here.
Some advice, if you're looking for an outsourcing partner in The New Normal
The times are new. Challenges are bigger. And Solutions must be better. Here is a checklist to help you find the right outsourcing partner for you. A partner who:
Is equipped with the right digital platforms for Hiring, Learning Management, Knowledge Management, and Workforce Management
Has the capability to hire the right people with required infrastructure that can be game-changing for your customer experience
Has dedicated teams of trainers to build client-specific training curriculums for continuous agent development
Has decentralized operations with multi-location presence, especially Tier-2 cities
Has an innovative mindset to build solutions for specific business pain points
Is agile enough to try out new business models with you
Has a diverse industry experience
The Silver lining on the Dark Cloud: BPM Growth after COVID-19
A recent survey conducted across 29 countries where 1250 executives took part, said that 45% of organizations will outsource more than insource in the next 18 months, with 57% citing security risks as a key challenge of managing IT in-house. And with 70–80% of the workforce working from home in a $38 bn Indian market alone, the size of the opportunity is huge.
Even with newer tech and hyper-automation bringing BPM to new forefronts, these are going to be the formative years of newer, more sustainable BPM business models worldwide.
Human memory, they say, is limited. We may overcome these initial hurdles in time and even thrive in a Post COVID-19 world, but hopefully, we won't lose sight of the lessons we learned during this crisis.
About The Author
Kamal Pathak is the Senior Manager for Product Strategy at Maxicus. With over 12 years of experience in the BPM industry, his work and expertise encompass the world of Telecom, IoT, Smart Devices, and Artificial Intelligence. 
Categories: