Categories:
Customer Retention: How to Identify the Right Approach
Customer acquisition is stressed repeatedly in every stakeholder meeting to generate leads and revenue in any organization. However, what most organizations fail to focus on to understand how necessary customer retention is.
What is customer retention?
Customer retention management refers to an organization's ability to retain its existing and newly acquired clients over a specified time. For example, Starbucks has some excellent reward program strategies (a customer retention strategy) praised worldwide.
If you ask your team to focus 50% on acquiring new customers and 50% on retaining existing customers, the latter's lifetime value and royalty would be higher.
Did you know that 68% of your sales come from existing customers? (Source: SAS and Loyalty360)
A lot of customers that you acquire may not even come back once they shop from your website. Maybe, you offered them a discount on their first purchase that made them stumble upon your website in the first instance. However, the actual game lies in repeating the purchase cycle of newly acquired customers.
6 Ways for brands to maximize customer retention
Customer retention strategies require consistency, effort and should make customers feel connected with your brand.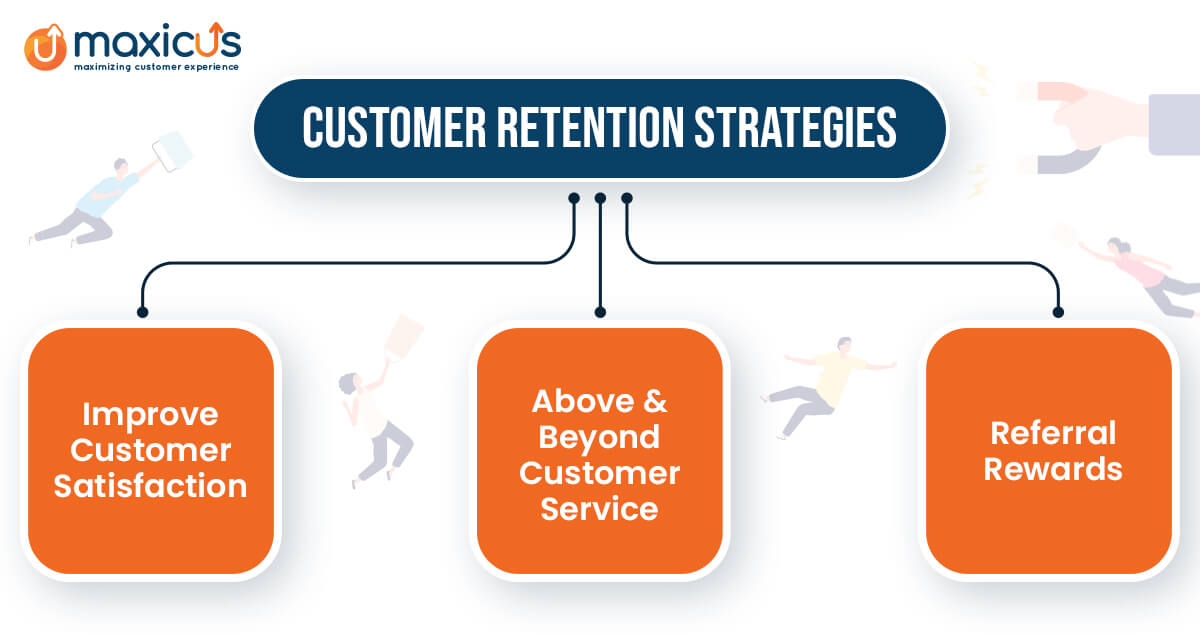 How can you be a brand that customers remember when they think of products and services that you sell?
Here is how brands can leverage and strategize themselves to retain existing and newly acquired customers:
Content is king
Reciprocate great gestures. Understand customer needs and help them with suggestions, tips, and tricks of their interest that tangents to your product/services.
Know that when you add value to their needs, they would add value to your revenue.
Highly personalized messages, especially which are handwritten, show how much a brand values them. If a brand can spend time sending you handwritten notes, its impact on customer experience is vast. It is one of the ways you can do more than a customer expects. After all, a competitive edge is inevitable when you do more than other brands for enhancing CX.
In such a case, when you try to ask for feedback from customers, they will also spare time to help you grow.
Be consistent and exceptional
Customers use multiple channels to communicate with your brand. When they explore various channels, various touchpoints define your relationship with them.
Consistent CX is not easy. It takes efforts that should be consistent and seamless. If you are well-versed with customer profiling, it becomes easier to communicate and solve customer problems. First, understand which channels they prefer, web pages they land on, their behavior, how much value potential they have, and where their journey ends. Then, push relevant messages, emails, alerts, and recommendations accordingly.
All of your brand channels should identify your brand's voice and try to provide a seamless, fluid interaction across all channels and touchpoints. Customers usually enjoy messages from businesses that know them. Drive context, ensure continuity, and prefer simplicity to make your interactions delightful.
Be prompt in responding to queries
High-tech platforms have succeeded in answering level one of queries, but a human touch must fulfill the final level of customer interaction. Self-service portals could be an excellent option to immediately resolve their questions when you need to notify customers about a delay in response or operational working hours. However, self-service portals are not a good option when the user complains or has suffered a loss while purchasing your product/service. Try to reduce your average handle time for each set question. You can make a list wherein TAT is pre-decided for a specific type of query. Addressing queries fast and right makes a lot of difference in enhancing CX, which shoots revenue significantly.
Automate operational processes
There is routine operational work at every organization that takes a large amount of your time to complete. Such tasks need to be automated, such as – sending a thank you email, welcome note, and emails for the unsubscribed list. Billing and paying through a card can also be done using payment software. However, doing all the activities manually can be time-consuming. When you do this, keep integration and data quality in check. You can even use tools to connect with your customers who have left you using push notifications. This way, you can work on your strategy better, schedule mailers, and notify the event in a blink of an eye.
Have a complaint management system
You should be aware of user dissatisfaction, which is especially true for high-value customers. They are not just frequent buyers but also advocates of your brand. Allow them to engage in word-of-mouth activities in a suitable manner. Complaint management in place would ensure that users do not switch to other brands. Answer critical questions wisely and build trust through such relationships. Allow yourself to feel a complaint like an opportunity to expand your consumer analytics, solve a user problem and add another customer to your loyalty list.
Have KPIs for delivering customer service
What if you try a marketing campaign and are not able to measure results correctly? Have the right KPIs in place which can effectively measure organizational goals. Setting interim KPI goals can evaluate if you are going in the right direction.
KPIs to take care of are:
Response time – Time taken to respond to a customer query
Conversion rate – Response rate on contacting customers through a call or an email
Drop rate – Number of users who have unsubscribed to your service
Actions per engagement – Change in behavior of a user based on your customer reach
Customer lifetime value – How much a customer is worth your business in the long run
These steps will help you state your purpose of getting in touch with a user, build brand value and end with an action step.
Boost customer loyalty with our proven retention strategies
Conclusion
The results are bound to change once you apply the above strategies. All of this needs planning and implementation and constantly improving existing processes in action. Be honest and transparent with your customer. Have a retention strategy in place at all times rather than just having an acquisition strategy. Earn brownie points for the future by giving those discounts, free vouchers, and loyalty bonuses to make them feel valued.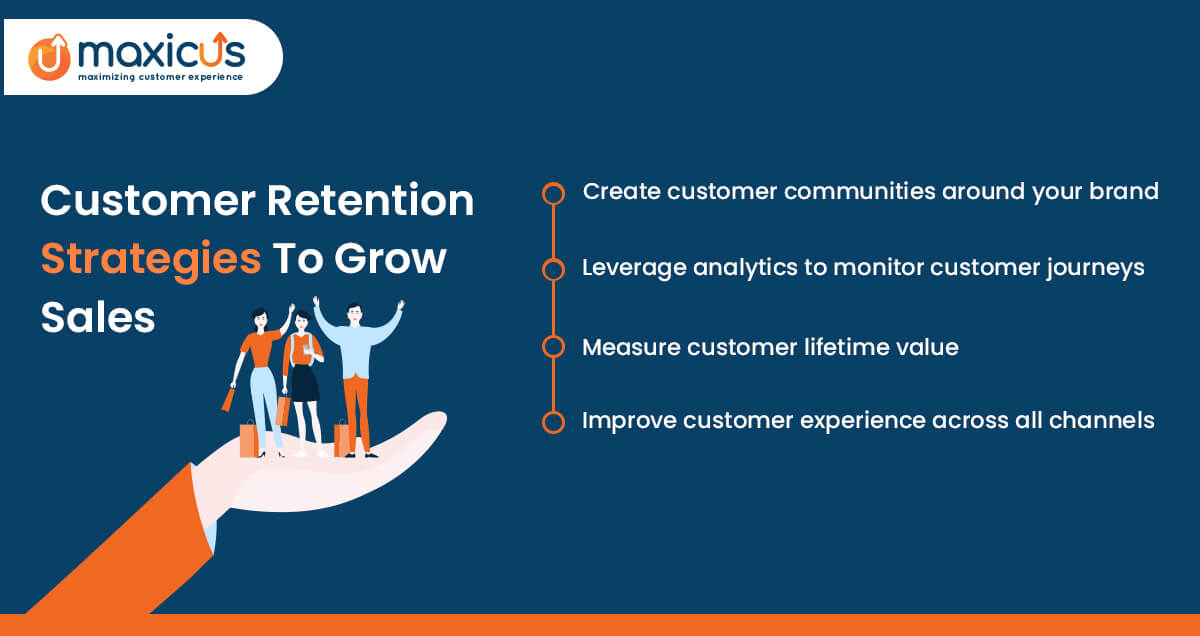 There are very few brands that try to customize and retain existing clients properly; we want you to be one of them. Know what they want, incentivize their return, provide them testimonials and be genuinely helpful.