Categories:
Top 8 digital transformation trends in 2021
With the evolving market, businesses are inventing new strategies to stay ahead in the league. They are spending on cutting-edge technology and advanced infrastructure in order to become more relevant to Gen-Z customers. Adapting to new technologies will make them flexible in the time of market shifts. Between 2020 and 2023 the direct investments into digital transformation are projected to reach a total of 6.8 trillion U.S. dollars. The same survey mentioned 65% of the world's gross domestic product is forecast to be digitized by 2022. (Source)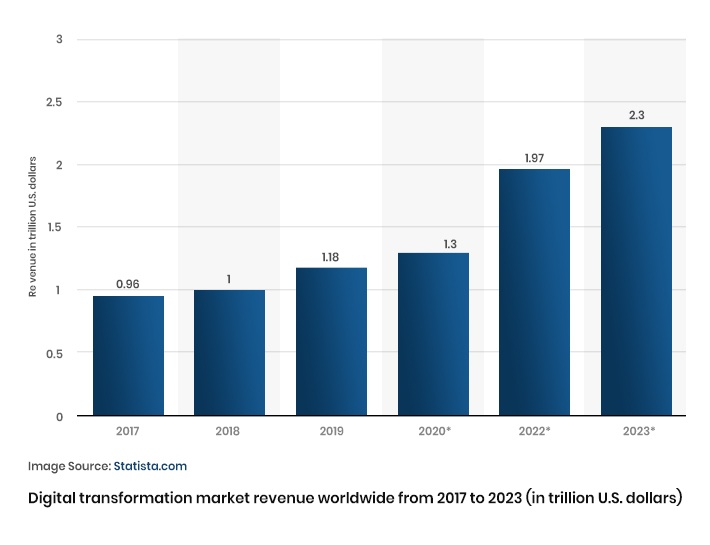 Will your business be able to keep up with the digital transformation trends?
Below we have discussed the top 8 digital transformation trends that will rule the future.
Virtual Interaction
During the peak of the global pandemic, many businesses have asked their employees to work from home last year. However, this digital transformation trend has carried on and it seems like this practice will remain. Even after the offices have opened full-time, companies will keep working from home quite often to tackle any black-swan event in the future. Therefore, it is pivotal for businesses to refine and expand their video conferencing capacities. It will be important for companies to focus on their social media handling skills and internal messaging network. These will become the antidote to the physical-distancing.
The power of 5G
Nowadays, videoconferencing and remote work have become an integral part of our daily routine. To remain disconnected is seems more like a crime now. Therefore, the urge for stable connectivity and more bandwidth has become a real thing. The deployment of 5G is the only solution. Telecommunication companies have very well understood their customers' needs. Today, businesses are dependent on several devices and to support such connectivity, there is a need for a multi-lane superhighway. Hence, the power of 5G will become more mainstream in the near future.
aSaaS (Artificial Intelligence-as-a-service)
Artificial Intelligence and Machine learning are working as a pair in order to provide rock-solid pillars to most digital transformation trends. Nowadays, Artificial Intelligence is widely used for predicting business trends. Algorithms that are based on Machine Learning accumulate data and provide a detailed analysis of it in order to provide data-based outcomes. As we step into 2021, these technologies, especially the involvement of Artificial Intelligence, will play a vital role in digitizing other aspects of the business.
Cybersecurity and data privacy
When you are going digital, data security threats are expected. Thus, businesses are focusing on cybersecurity and data privacy. Companies have already started using Cybersecurity measures as a USP (Unique Selling Point) to get ahead in the competition. In the upcoming year, the latest cybersecurity algorithms will take preference and along with the newer policies, strategies will come into the picture. Again, Artificial Intelligence and Machine learning will set the ball rolling for this. AI and ML will significantly contribute to technological areas like intrusion detection, password protection policies, cloud-based services, firewalls, antivirus strategies, role-based access, security identification, single sign-on, etc. The enhanced features will also be introduced. Organizations will make sure that users are the owner of their data by allowing or denying the access residing on applications.
XaaS (Everything-as-a-Service)
Day by day aaS (As-a-Service) is gaining popularity. It should be on the checklist to become a pro-digital enterprise. Everything-as-a service (XaaS) is the new trend in the aaS model. In this, services performed and delivered totally remain on the cloud. It offers virtual access to nearly everything. Artificial intelligence (AI) and Internet of things (IoT) tools will play a vital role in augmenting existing services and developing new services in order to set the digital narrative within the organization and as well as in the market.
Online education
With empty lecture halls and closed schools, online education has become the new normal. From the live-streaming of regular academic classes to cookery lessons, the Ed-tech industry is continuously booming. Remote classrooms have gone from contingency to conventional. This will keep on adjusting and developing according to the need of every age group of students. Although the digital transformation trends in education is focusing on micro-learning and gamification where it will become easy-to-digest, interactive, and fun and engaging for students. Today, education has broken the barrier of geographic locations, time-zones and has created a more data-informed, augmented & personalized learning experience.
Digital Banking
Today, banks are undergoing remarkable strain to make digital operations prompt and straightforward. Almost every financial institution is providing mobile banking and in-app support in order to satisfy rising customer needs. The prompt response and transparent data in their hand improve customer trust. From account opening to fund transfer, digital transformation is allowing banks to provide a seamless and personalized digital banking experience.
Omnichannel support
Businesses are putting more focus on enhancing customer loyalty and satisfaction by adopting omnichannel support. It offers a personalized and seamless customer experience across all channels. No matter where the customers choose to interact with the brand, they will get the same delightful experiences. Advanced omnichannel support creates a digital experience through in-app support, intelligent chat-bots, social media, and as well as immersive experiences by leveraging augmented reality. No wonder, businesses are spending heavily to get the omnichannel ecosystem in place. The number of companies investing in the omnichannel experience has already jumped from 20% to 80%, and this will continue to grow by next year. (Source)
The customer experience industry is the next big thing! Today, it is not only about good products. Contemporary customers prefer convenience. Omnichannel experience is going to be a more significant factor in their decision-making process in the upcoming years.
Conclusion
Every business should be a digital business, a lesson to remember from the past. In digital transformation trends 2021, businesses will be looking to create value among customers and bring flexibility to their operations. Digital transformation empowers businesses to up their ante and enables them to become a digital enterprise. The influx of flagship digital transformation trends will inevitably simplify business operations by reducing human interactions, initiating automation, and most importantly, increasing productivity. Companies need to be future-ready and leverage tech-enabled digital ecosystems across every touchpoint in order to flourish even during a crisis.