Categories:
Improving customer experience in Banking & FinTech
Increasing customer expectations and changing behaviors have forced banks to consider improving their response to customer needs. Today, in the banking sector, staying competitive needs a customer-first mindset. Technology and data are crucial to developing and delivering excellent real-time customer experience in banking that accelerates growth and increases market share. Traditionally, customers use to look for qualities such as history, reputation, and trust as a benchmark to choose banks. However, the waves of customer experience in the banking industry are changing. The metamorphosis of technology has transformed consumer preferences and raised the value of customer experience in banking.
According to a Microsoft survey, the average person has up to 17 interactions a month with their bank, mostly online or on mobile. (Source)
Therefore, a complex or antiquated practice might make the customer leave you.
Importance of CX in Banking & FinTech
The metamorphosis of CX in banking & FinTech traditionally was very moderate. One of the breakthroughs in that affair was the introduction of the ATM in 1967 to automate bank-teller operations and cash withdrawals.
Then, banks started to provide customer service and moved to telephone banking, followed by the digital age that shaped the approach of banks dealing with customers.
More than two-thirds of companies now compete primarily based on customer experience – up from only 36% a decade ago. (Source)
Customer experience in banking is now growing and becoming one of the most important things in BFSI. New services and fresh policies must add a greater level of convenience to be customer-centric.
It's all about customers' trust. Customers that trust is more prone to purchase their products/services, and recommend them to friends and family. (Source) Yet, some customers are preferring to use the latest technologies making their banking experience more comfortable. FinTech organizations still have to work harder to gain customers' trust, in the same way, they trust banks.
What do digital bank customers expect from their onboarding experiences?
How to improve customer experience in banking?
With the advancement of technology, banks, and fintech are reinventing ways to engage and transform the customer experience in fintech & banking.
Consumer satisfaction is becoming more reliant on the quality of interaction than on products or services. Let's explore some methods to deliver a good customer experience in banking.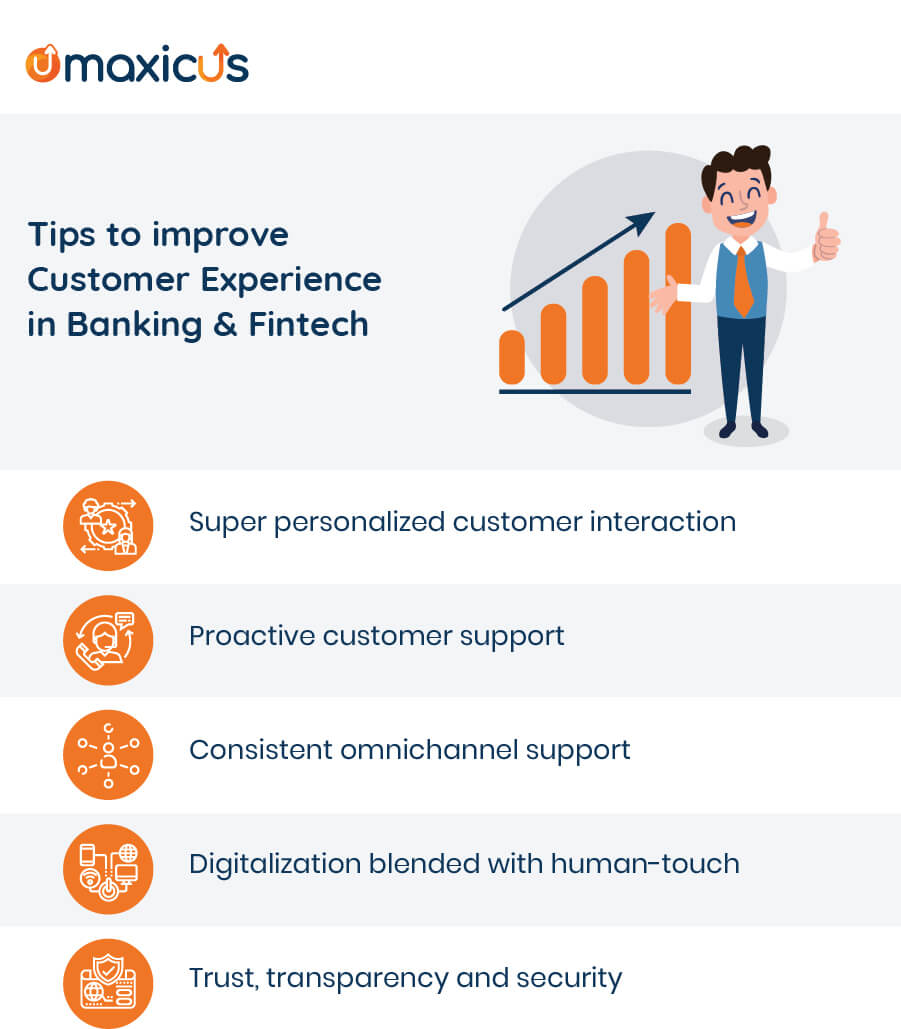 Super personalized customer interaction
Delivering personalized customer experiences has been the foundation of most direct and digital marketing activities for decades. Having said that, today's consumer wants more each time, he avails of a service.
62% of customers expect businesses to accommodate based on their responses or behaviors. Only 47% of customers believe they are receiving this level of personalization today. (Source)
Banks are using customer data to eliminate turbulence from experiences, improving relevance and speeding up customer access to desired results. This will certainly increase the loyalty and trust of customers leading to enhanced opportunities and revenues.
Digitalization blended with human-touch
The potential of artificial intelligence (AI) remains to accelerate with the capability to obtain and analyze data, enhance processes, and suggest activities increasing each day.
AI improves the capability to personalize and contextualize customer engagements making it feel more 'human' without human touch. There is no competition for genuine human communication.
In some cases, banks will bring human agents back into customer support granting access through digital channels. A human engagement will be available on a super personalized basis.
In another placement of human appearances to digital, leveraging AI, voice interactions will change the game, just like Siri or Alexa.
From human voices to ways of handling customer requests, automation and ML (Machine learning) will come into play. With time, these engagements will continue to enhance as they learn different languages, pronunciations, and accents.
Provide proactive customer support
With the blend of advanced analytics, increased data, and expanded channel possibilities, banks, and fintech have greatly reinvented ways to support customers in real time.
Today, banks must be empowered to offer proactive insights that can benefit customers to dodge financial traps. This allows consumers to take advantage of opportunities faster than ever before.
For example, by sending messages through SMS or on a mobile banking app, banks, and financial institutions can leverage past customer behaviors and transactions to provide smart recommendations in context.
Delivering proactive insights to customers will foster a value exchange and they will depend on the bank. This will impact customer satisfaction and loyalty positively.
Consistent omnichannel support
Customers believe that they are most important to their banks. They don't want to be compelled to use a particular touchpoint.
They want their banks to provide them options to buy and interact, without compromising on the quality of service received.
For most fintech, methods and technologies will be required to adapt to provide a seamless experience across touchpoints. The evaluation of interaction throughout the whole user journey will be needed to ensure the effectiveness of your work is optimized.
Trust, transparency, and security
None of the bank or fintech customer experience metrics will count if the customer doesn't believe how you will appreciate their identity, protect their data, and be straightforward in their interactions.
The customer wants total transparency about how their data will be preserved. They also want to have strong security around their information, including pictures, signatures, and biometrics.
If there are privacy concerns with your bank, the trust is compromised and the customer experience will be impacted.
In-house customer experience management in the banking industry ends up generating a set of vertically unified pits that occurs in huge duplication and repetition across companies and markets.
Not only do these repeated compositions and stiff services are expensive, but they also reduce flexibility and corrupt the service quality through reasonable discrepancies.
That's why banks and fintech should be dodging these pitfalls at all costs and outsourcing CX instead.
Outsource your CX initiatives to industry experts
As banks compete to increase profit margins and gain market share, the more determined they are in identifying those spaces, once considered in-house responsibilities can be assigned to competent third-party service providers.
Ready to revolutionize your banking or fintech customer experience?
Outsourcing allows banks and fintech to enhance operational performance, immensely increase speed, overcome operational uncertainty, and improve productivity through better streamlining and unifying functions.