How does video analytics work?
Video analytics leverages mathematical algorithms to analyze, manage and monitor huge volumes of video footage. By analyzing video inputs digitally, transforms videos into smart data and helps in decision making. The real-time use of video analytics in surveillance is installed to track and provide alerts to particular events as and when they happen. It can be used to search retrospectively for events that have occurred.
Smart video analytics solutions run at the central monitoring location, built into cameras, or as a combination of both. The video analytics, which is configured in security cameras, are ideal to provide live analytics. It can be called 'edge video analytics'. In an edge video analytics solution, each security camera has delicate processing; therefore, businesses with limited bandwidth on their network can easily stream and get the information on suspicious events sent through the network without using up the network bandwidth.
The post-processing analytics is done to help the operators to search the recorded footage many times with different parameters. By leveraging video analytics, the operators can search a huge volume of recorded footage for possible suspicious incidents and verify the results.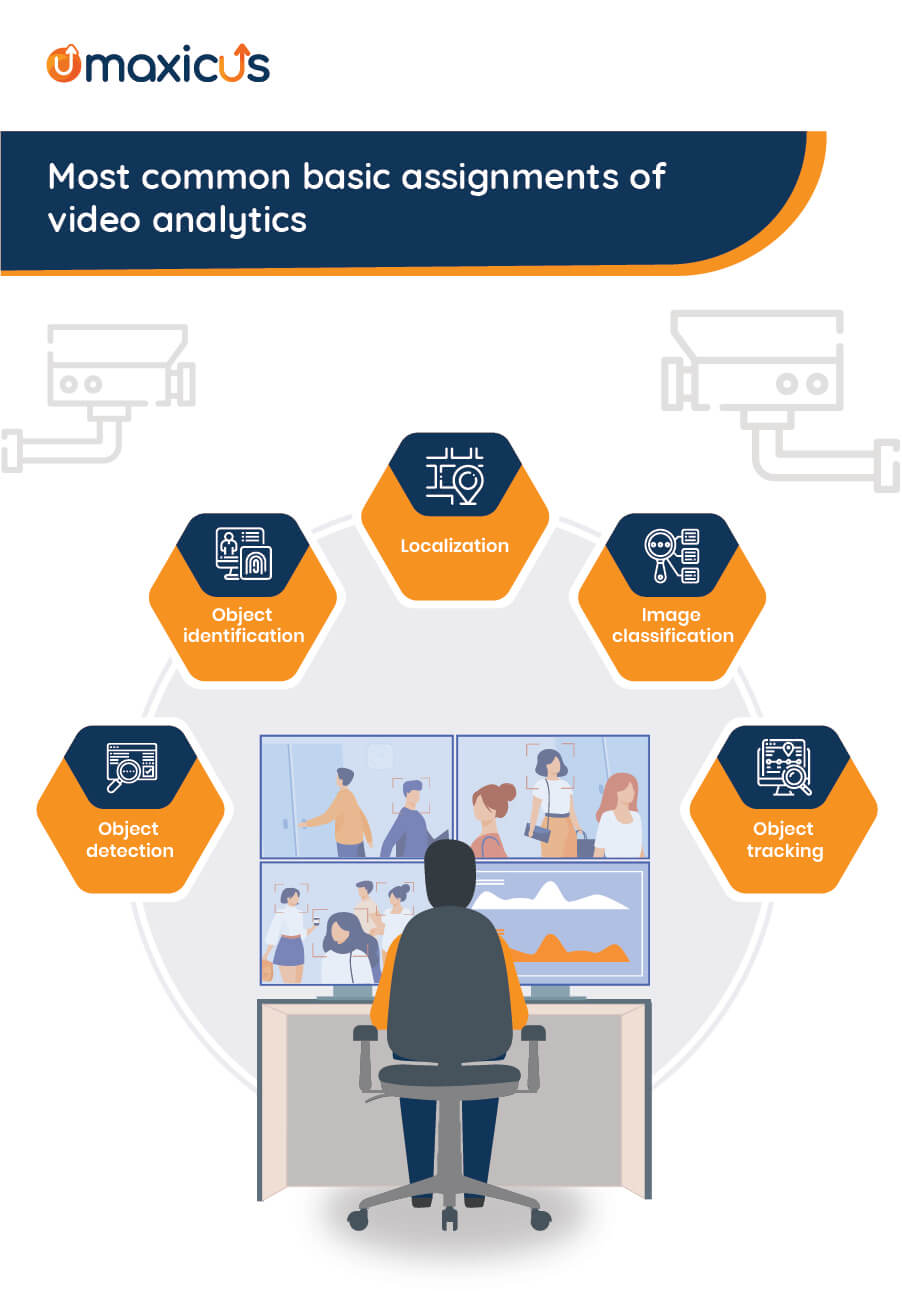 The benefits of video analytics in surveillance for businesses
Seamless monitoring
Machines never get tired or bored. They can watch multiple cameras at once and observe what no human could have seen. Video analytics solutions are designed to identify the human form therefore false alarms from wind, birds, dogs, etc. are eliminated. It is also made to monitor vehicles. With the configuration of artificial intelligence video surveillance, HD images of suspicious events are captured while monitoring and record live video monitoring.
Smart detection
CCTV intelligent video analysis searches for suspicious actions. Businesses can pre-set customized commands according to their needs. For instance, a person is approaching the ATM suspiciously. Let's look at some of the frequently used pre-set rules for an alert.
Crowd alert- a gathering of too many individuals
An object in the zone – person or vehicle
Loitering in the area beyond the allowed time
Wrong parking on office premises
Object missing or removed
Offsite monitoring
According to a report, 40% of industrial/commercial crimes are guard-assisted. (Source) Therefore, it would always be a better option to keep the operators offsite who receive the alert. Businesses are adopting video analytics as a service and making this possible. Additionally, these alerts can be sent to your in-house guards, email, or smart-phones.
Easy employee adherence
A tea break should be for 15 minutes and not more than that. The employee should have been present until 7 PM and if one has left 20 minutes early, the video analytics companies' program can respond to these employee adherence metrics. Similarly, the nurse should always be close to the ICU, her absence can be spotted using analytics.
Automated alert of security breaches
With video analytics, you get more than just a video surveillance facility. It allows you to not only monitor the camera feed but also take direct action automatically, in case, any trespassers try to sneak into your property. By integrating the video surveillance analytics with sensors, security lights, and loudspeakers, etc., it can warn the intruders. The immediate turning on the security light and activating the security alarm, followed by a canned verbal warning to leave the property is adequate to keep off the invader before any damage is done. In the same way, the mechanism works in case of a fire break out as well.
Avoids traffic jam in front of the office
By configuring video analytics to surveillance, enterprises can avoid the traffic jam on their premises. A smart parking system helps the employees and drivers to find the idle spot by analyzing footage from CCTV.
Automated access control
License plate recognition (LPR) and facial recognition techniques identify vehicles and individuals then and there to make appropriate decisions. For example, it's possible to look for a person or vehicle both in real-time feed and in recorded footage. Besides, it identifies the authorized personnel and then only grants access to a secured zone without any human touch.
Crowd management
The types of video analytics include this feature or benefit as a part of security surveillance, especially in hospitals, shopping malls, airports, and stadiums. The video analytics solutions provide an approximated crowd number in real-time by analyzing the live video monitoring feed. It is programmed to trigger alerts when the number or space exceeds the given limit. Besides, it analyzes crowd flow to detect movement towards prohibited directions.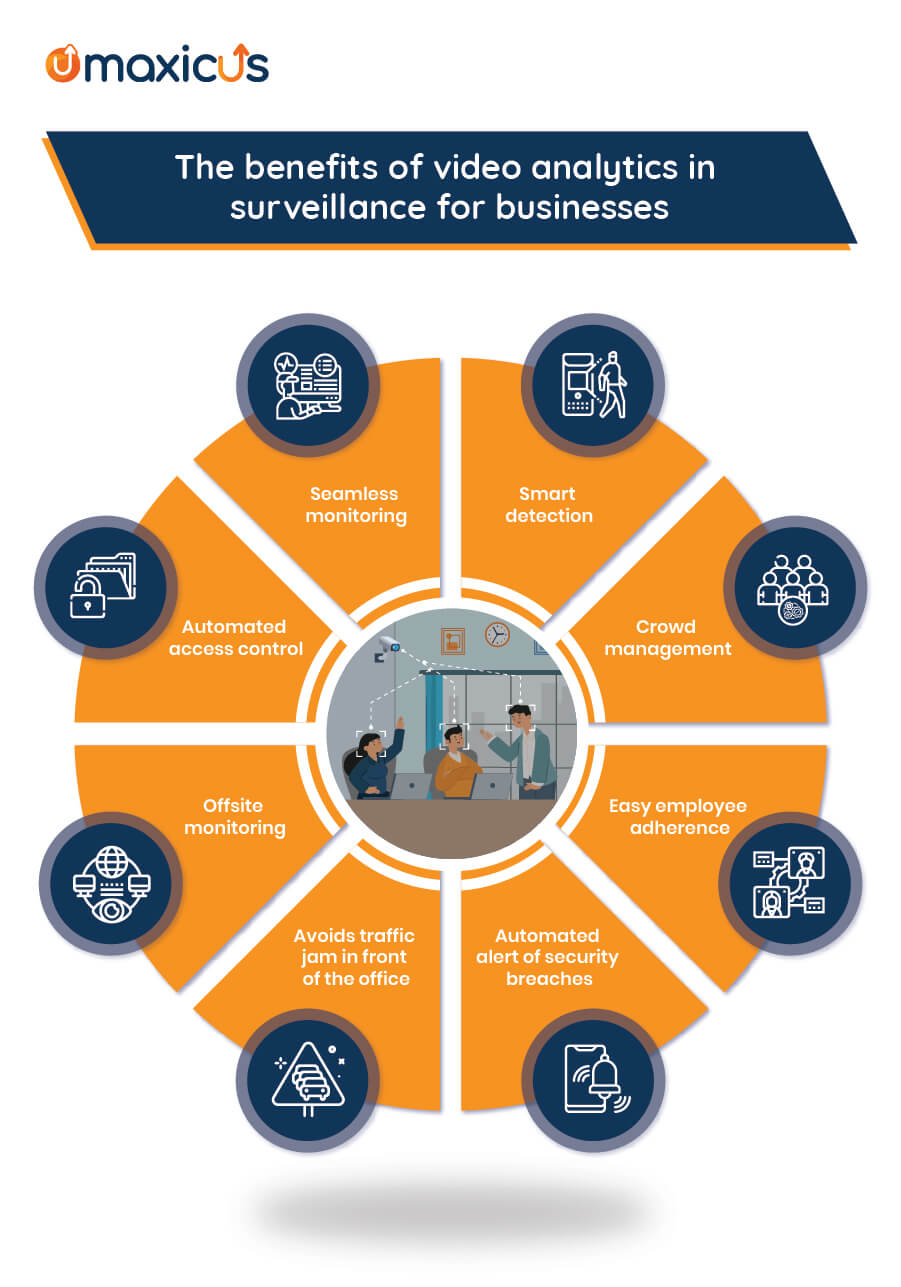 Industry applications of video analytics
Smart video analytics solutions are rapidly finding their place across industries; from retail, healthcare to financial services. Video surveillance analytics guard commercial properties and employees against any kind of damage or harm, ideally before incidents occur. Here, we will talk about mainly two industries that benefit most from video surveillance analytics; Healthcare and Retail.
Healthcare
In the 21st century, healthcare institutions have spent huge amounts of money on video monitoring solutions to ensure the safety and security of their patients, staff, and visitors and, safety at the levels that are often controlled by strict legislation. Crime, drug diversion, and infant abduction are a few frequent concerns addressed by security monitoring systems. Additionally, helping monitoring tasks, video analytics enables us to monitor beyond video feeds, by leveraging the data accumulated to achieve business aspirations. For instance, a surveillance analytics tool can identify when a patient has not been examined according to their requirements and alert the doctors and nurses. Review of patient and visitor traffic is greatly valuable in ascertaining approaches to reduce wait times while ensuring clear access to the emergency zone.
Artificial intelligence video surveillance of older age people with health issues at home provides exceptional value. For example, slipping on the floor is a cause of critical injury and sometimes death for older people. Sometimes personal medical devices cannot detect these and the main problem is they must be worn all the time, therefore, are frequently ignored by the user. The video analytics tool can detect and alert in real-time if an individual has fallen. With proper integration with other devices, it can also check if an individual took the medication when they were supposed to or not.
Video analytics is contributing significantly to mental healthcare as well. Tools that interpret body movements, postures, gazes, and facial expressions can be exploited to serve doctors, helps inpatient care. These solutions can identify mental states from micro-expressions and body language. It helps doctors to accumulate proper knowledge about the patient and their patterns, treat them accordingly.
Retail
By utilizing video analytics surveillance, the retail industry has been the major technological trends in recent years. Brick and mortar retailers are using a video analytics tool to understand their customers and buying patterns.
The algorithms can identify faces and determine customers' fundamental characteristics such as age and gender. These tools also track the customers' journeys in retail stores or supermarkets and interpret navigational routes to identify buying patterns, step by step. The retailers can know how long a customer is looking at a specific product by levering gaze detecting. It answers the most valuable question for retailers: What would be the best place to put the items in an order to maximize sales and improve customer experience?
Plenty of actionable insights can be accumulated leveraging video analytics tools. For example, customers' body language, walking patterns, duration of visit, and the whole number of customers visiting each day to the store. These data are accumulated and thoroughly analyzed, considering its temporal nature, businesses can optimize their store according to holidays, a specific season of the year, or day of the week. With advanced surveillance analytics, the retail store owners and managers can make an extremely precise sense of understanding about their customers, who and when they visit the store, and how they behave while buying.
Adopting video analytics as a service, video analytics companies are developing anti-theft mechanisms. This is extremely beneficial for the retail sector especially. For example, face recognition algorithms are trained and instructed to recognize distinguished shoplifters or detect an individual in real-time hiding an item in their backpack.
Additionally, data extracted from video analytics tools serve as input for training ML models. For instance, customers' walking patterns and the number of visitors in the store are valuable data to attach to ML-powered tools for price optimization, inventory forecasting, and demand forecasting. Well, this resolves the larger problems of a retails store.
Conclusion
Video monitoring is a traditional job of the security domain. Nevertheless, from the time that operations were watched particularly by humans to modern software-based video analytics, a lot of water has passed under the bridge.
Video surveillance analytics is trained to identify characters in real-time. This sets the foundation for achieving other results. The most paramount: Keeping eyes on the visitors and staff 24×7.
More superior goals depend on archival data; it can be to ascertain the smooth flow of visitors/ customers according to a particular day of the week or even a specific time of day. If it finds out unusual traffic or chaos due to a heavy crowd, immediately generate alerts. For instance, the zone is dedicated to specific operations, the tools are instructed and trained to detect unauthorized individuals and trigger alerts then and there. As well as it is trained to detect specific incidents with a great level of sophistication. For instance, video surveillance analytics is to detect smoke and fires break out in real-time in offices, banks, retail stores, warehouses, etc.
The classic job of video surveillance analytics is intruder detection. Video analytics perform robustly to keep-off the burglars from the commercial property leveraging algorithms that filter out motions caused by animals, rain, wind, snow, etc. This makes it easy for businesses to safeguard their employees and properties. The demand for surveillance dimensions offered by advanced video surveillance analytics is growing day by day in the security arrangements for enterprises and this trend will only continue to increase. Live video monitoring outsourcing is the next big thing that companies prefer because outsourcing it not only provide them data reliably but also helps you to focus better on your core activities, is cost-efficient and time-saving.