The 5G impact video surveillance
Amid the growing concern for safeguarding commercial properties, businesses around the world are pushing for better video surveillance in a bid to make their offices, warehouses, and factories safer. Hence, the demand for seamless video surveillance has accelerated over the years. With the introduction of 5G, the market senses rapid growth in the connected ecosystems and video surveillance services have largely moved to IP-based networks. As a consequence, it led to the extensive growth in video data traffic and desperately created a vacuum for advanced network infrastructure which can handle this heavy volume of transmitted video data from multiple sources. Businesses are moving on from the traditional wired and complex surveillance ecosystem to superior wireless connectivity in form of 4G LTE, which is providing a comparatively better alternative while deploying the video surveillance system on a large scale.
However, the advancement of technology in security cameras such as 4k and 8K high-resolution cameras is eating up massive bandwidth and businesses are installing these ultra HD cameras in good numbers. Therefore, the contemporary 4G LTE networks are getting overburdened and congested. So, the businesses are facing buffering issues and glitches in live feeds, which is not an experience they want to have. From the security perspective, these bottle-necks can lead to a huge disaster.
The arrival of 5G connectivity is helping businesses to overcome the hurdles of the past and drawing new opportunities in the video surveillance market. 5G video surveillance, undoubtedly, gives a higher bandwidth, low latency, and more stable connectivity for remote video surveillance solutions as contrasted to its predecessors.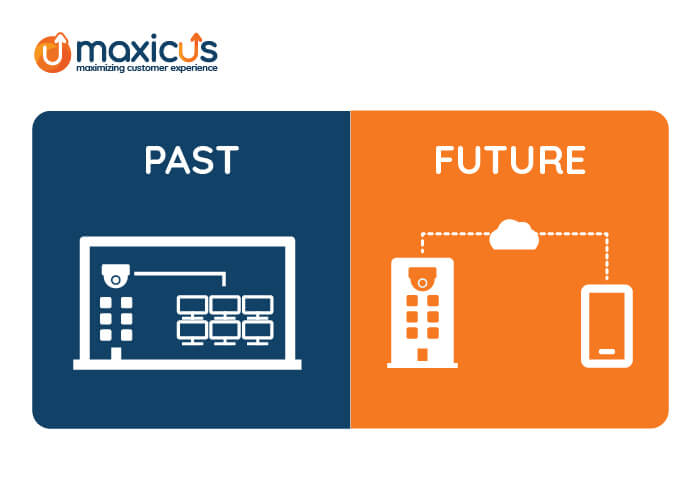 Let's dig deeper on how 5G is impacting video surveillance on a large scale.
Powerful performance
5G download speeds generally range from approximately 50 Mbps to 1.8 Gbps or more, though these can vary depending on network strength. For example, a 3GB movie that took 27 minutes to download via 4G would only take around 35 seconds on 5G networks. (Source)
With 5G, latency will be immensely reduced. It will effectively impact video surveillance management and add significant differences when it comes to live monitoring that demands an immediate response. For video surveillance solutions, the almost eliminated latency will give a boost to real-time monitoring and camera responsiveness. The leap in video quality is set to render 4K and even 8K camera feeds. Additionally, downloading and uploading footage in the cloud will be faster than ever before. So, businesses can eliminate long wait times for storage, and thus, the time can be used in different aspects of the business. Besides, watching live video monitoring feeds on mobile will be transformed with the promise of high performance that 5G offers.
High-resolution camera deployments
The rapid adoption of technology for business purposes is driving the video surveillance game towards developing better infrastructure to achieve greater quality with better efficiency. As the offices, factories, and warehouses aspire to become smarter by embracing IoT and video analytics, security cameras are getting transformed to provide the best video quality with high resolution. Therefore, the footage will be clear and the culprits will never getaway. As well as, the high-quality video data can be analyzed in several ways, such as gathering crucial business insights for retail stores and intelligent warehouse vehicle management, hospital crowd management, etc. 5G networks will be able to handle such large volumes of data easily and will provide a consistent and seamless live monitoring. So, deployment of high-resolution security cameras inside office premises will become the new normal in 5G video surveillance.
Effective surveillance
The video surveillance ecosystem will be augmented with the promised performance potential of 5G soon. Warehouse and factory surveillance will be further enhanced as advanced technologies will be integrated such as employee management, vehicle management, fire detection, intruder detection, alarm integration, etc. With the 5G network, these integrations will work and will provide the same and better performance experience irrespective of wired outdoor security cameras or wireless-only devices, such as drone-mounted cameras, body-worn or vehicle cameras. 5G has the greater capacity of network slicing that offers a dedicated share of bandwidth for specific applications, eliminates the glitch while connected with multiple devices, tools and users. Hence, the overall surveillance can be done effectively.
Cloud-based video management service
The higher bandwidth in 5G connectivity allows ultra-quick transmission speed. The super-fast data transmission enables users to promptly upload the video footage of the surveillance from multiple sources, which can be remotely located in multiple cities, into a centralized cloud storage platform. Storing in local systems carries the fear of data leaks and data corruption, so businesses find cloud storage more effective. The video footage will be easily accessible, anytime or on-demand from any part of the world with an internet connection. This is how 5G will become the catalyst to the rise of video-surveillance-as-a-service (VSaaS). An advanced cloud video storage monitoring solution is capable of monitoring, viewing, and playback the surveillance footage along with real-time analysis leveraging AI tools.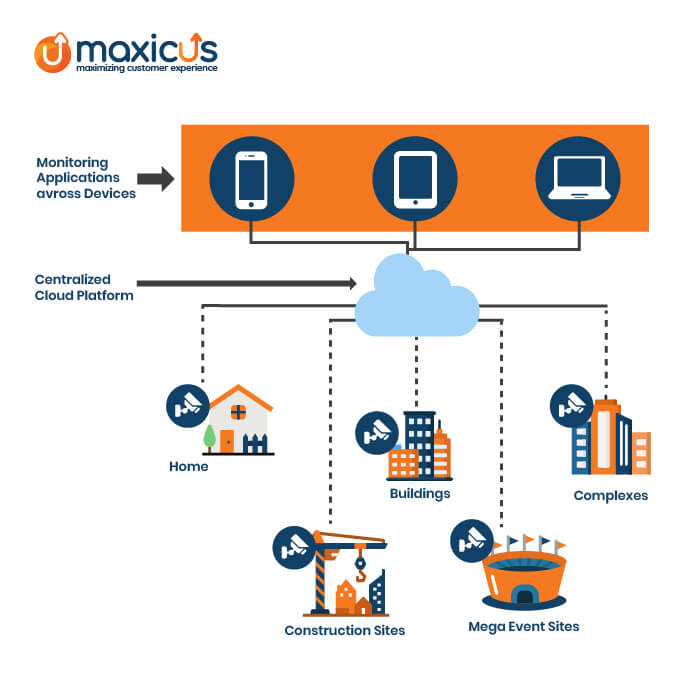 More stable monitoring
As the 5G network has nearly eliminated latency, the live streaming of the surveillance video footage will be seamless to operators, regardless of them, sitting in the local control rooms or monitoring remotely. There, the operators can call for an immediate response, in case of, emergencies or security threats leveraging IoT integrated tools. 5G promises to deliver uninterrupted network services which are pivotal to seamless video surveillance.
Efficient than humans
Humans have limitations. While security personnel is monitoring the video footage, there is a higher possibility of missing out on unusual activities. The integration of AI & ML tools connected with 5G networks detects every minor detail as programmed, such as employee adherence through face recognition, with a greater level of efficiency and keeps off the intruders.
5G surveillance: Opportunities for industries
Smart vehicle management for factories and warehouses
Warehouses or factories are busy places. There are endless unloading and loading of goods, raw materials, and packages that are conducted throughout the day. Therefore, many unknown vehicles come in and out on the factory premises. Hence, there are possibilities of mismanagement and theft, which can disrupt the operations. Unfortunately, one of these events takes place at your warehouse, it is hard to track or find the details of the vehicle to catch the intruders. But, with 5G networks warehouse managers can leverage video surveillance tools to detect every vehicle entering your warehouse premises. Simultaneously, smart video analytics tools scan and capture the number plate of the vehicles every time to keep records. This way businesses can stop unidentified vehicles to enter and ensure it is registered before going inside the factory or warehouse.
Enabling opportunities for healthcare
5g will enable new dimensions for healthcare. In the area of diagnostic medicine and crucial surgeries, video monitoring can be used to optimize patient care as well as help the doctors. For example, particular clinical practices are conducted in multi-step under anesthesia. While the patients must be observed from start to end by performing different treatments. Due to the lack of availability of doctors the quality of patient care is being compromised or cannot be conducted. In some cases, while performing through video surveillance, due to high latency there is always a risk of getting disconnected and that can lead to serious trouble for patients. 5G video remote surveillance is making this possible and saving a lot of money for the hospital. Video surveillance connected with 5G networks has paved the way for the healthcare industry to provide a whole new dimension to patient care.
More than surveillance in retail stores
5G video surveillance helps to crucial business insights through consistent monitoring. Because of high bandwidth and minimal latency, it operates smoothly to recognize the 'hot zones' in a supermarket, where the maximum number of people stop to buy products. The tools can measure visitor flow, gender classification, product display activity, dwell time and help store managers to strategize accordingly. These can only be done if there is a continuous high-quality video feed available from high-resolution security cameras. Here, 5G is making it possible and playing a major role in transforming the retail stores into profit-making entities.
The risk: Privacy concern is for real
The ongoing debates on 5G network capabilities are mostly positive, but there is one aspect of it that needs to be discussed. As Newton's third law, the promises of 5G are no different. Let's address the elephant in the room – Privacy and data security concerns. A famous line from the movie Spiderman – 'with great power comes great responsibility'- is perfectly applicable here for businesses. But in this dystopian world, are the businesses able to handle and optimize exploitation of 5G network capacities? Will it be able to bridge the paradox between safety and privacy?
To prevent crimes using 5G, businesses are gathering immense employee and customer data, in a way that is being used as business insight. Even the critics of video surveillance will agree that the addition of 5G potentiality will benefit the enterprises big time, in the context of security arrangements. The 5G network will supremely empower video monitoring services like video analytics using Machine learning and Artificial Intelligence.
Today, countries all over the world are adopting strict privacy laws to regulate data security. Businesses also have to carefully moderate their video surveillance exercises. Businesses should be mindful that the motive of 5G video surveillance is to strengthen security in their commercial premises. Rest time will tell how 5G behaves and what policies governments adopt to minimize the exploitation of human data. Businesses must be committed to adhere to the pre-set data privacy laws and not invade the private spaces of an individual in the name of security compulsion or to gain business insights.
Conclusion
In the e-surveillance industry, 5G will facilitate comprehensive, simplified and flexible service coverage. 5G will be the fuel for the video surveillance sector as it will open the floodgates to implement in several industries. The high bandwidth and massive connectivity ensure the live remote video monitoring without a glitch. The nearly-eliminated latency allows the device and cloud synergy in millisecond-level data transmission. The greater network slicing assures that the video surveillance systems can be applied to other business aspects. These are just the perfect criteria for multi-location remote video surveillance, ML-driven video analytics, and heavy data storage in the cloud. 5G will be unlocking a wide range of potential opportunities for video surveillance across industries.