Categories:
Command center monitoring & its best practices
While monitoring big factories or manufacturing plants, it is challenging for enterprises to place security guards everywhere, especially in the dark. To counter this problem, command center monitoring has become popular. It is matching the security and operational expectations of businesses irrespective of shape & size.
Security camera monitoring services from a command center are not a new phenomenon. Since the inception of video surveillance services, command center operations have been known to ease the security challenges for enterprises. In the era of hyper-globalization, crime rates have increased at the speed of light. Therefore, hardcore surveillance monitoring with situational awareness has become the priority for command centers.
Get complete control over your infrastructure with real-time monitoring
Why command centers are crucial for e-surveillance monitoring?
Regardless of the industry, businesses require command center support to safeguard their assets round-the-clock. Command centers conduct real-time monitoring of multiple locations from one central hub. The operators can watch and control several business functions in real-time, in various locations across the globe. From ensuring safety, managing operations to eliminating supply chain disruptions, security command center surveillance monitoring allows businesses to be always under control.
Command centers empower enterprises to trace, assess, optimize, and fix process bottlenecks remotely from a central command location. It can help businesses to maximize operational efficiency with minimal infrastructure. Command centers are preventing security lapses and reducing process disruptions with live remote video monitoring. Once the command support team detects any suspicious activity, they immediately dispatch crews to resolve the issue. Besides, they are trained to anticipate the occurrence of similar incidents. Therefore, preventive measures can be taken in advance.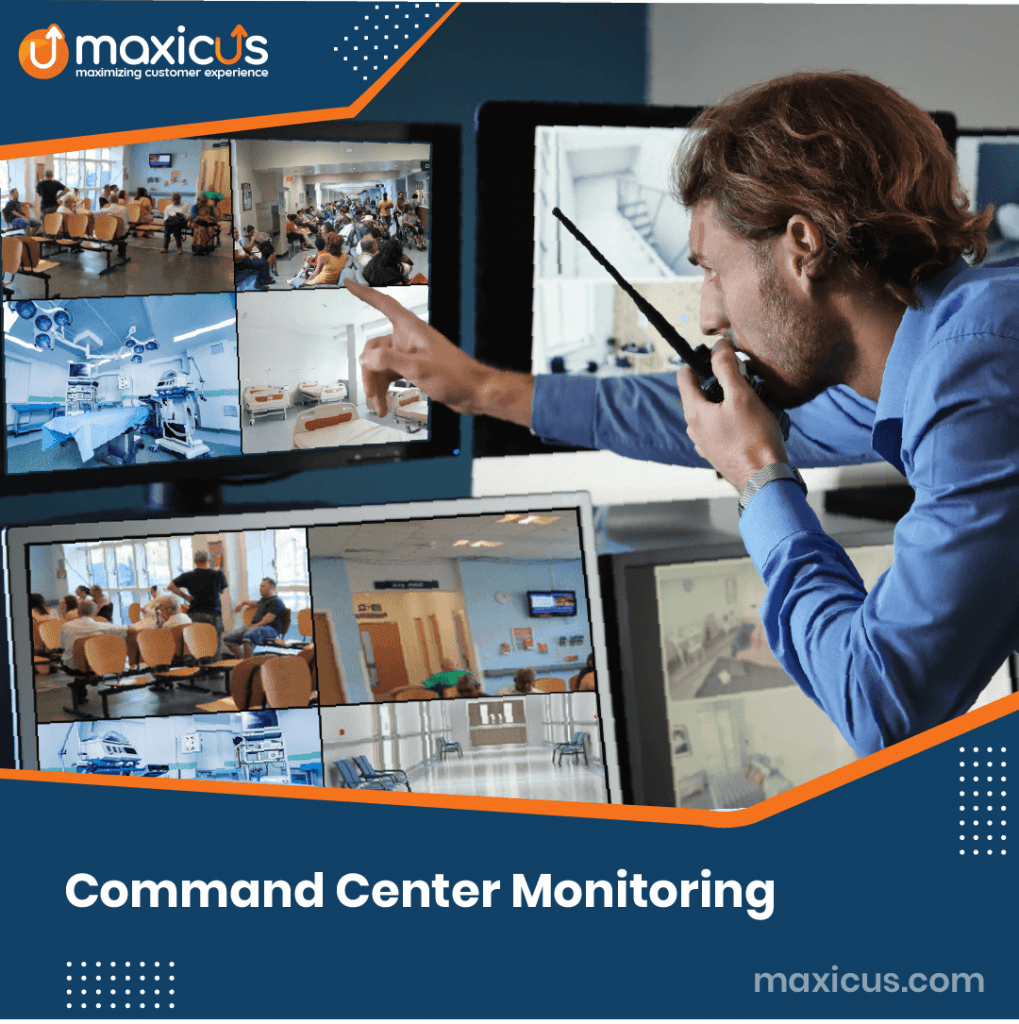 For organizations, every business function is crucial. If operations are stopped for a couple of hours because of security failures or supply chain disruption, it can cost enterprises big time. Here, the security command center comes to the rescue by facilitating prompt command responses and lowering downtimes. In case any unwanted incident occurs, the command support team diagnoses the situation in real-time, alerts the relevant on-site team to take action. However, they need the right training, ergonomics, and strategies to get the best out of a command center setup. Below we have jotted down the industry best practices of command center monitoring, let's have a look.
Top 5 e-surveillance trends
Best 6 practices of command center monitoring
Following are the best practices in command center monitoring:
1. Train operators to follow command center responsibilities
Command center operators must be trained to monitor with proper attention and intercept suspicious activities. For example, the officer should equally observe what is happening in the foreground and as well as in the background of the live video feed. They must be taught to collaborate with on-site crews in an emergency. For example, the command support team should respond differently in case of a fire break out than any trespassing activity. They should be trained to tackle every possible scenario accordingly.
They should learn e-surveillance skills, for example, maintain visitor's log books remotely, give walkie-talkie alerts, dispatch petrol, etc. It is most important for the command support team to be well aware of video surveillance policies and data privacy. They must be enlightened to keep these highly sensitive visuals only for surveillance purposes, not to exploit them. Additionally, calling civic/government bodies in emergencies must be kept in their training module.
2. Multitasking
Sitting in front of the screen and only watching the live visual is not the job of a command center operator. They need to observe & make notes for analysts to discover patterns of various activities. It helps to anticipate crimes and gain crucial business intelligence. They should be capable enough to balance their duties between monitoring and paperwork. Operators should be able to handle access controls and communication systems without having to divert focus from the screen.
3. Schedule monitoring time frame
Humans have limited attention periods. It becomes challenging for operators to focus after a while. However, this problem can be contoured with smart surveillance scheduling. Operators can switch their monitoring duties every two to four hours. Therefore, they can conduct effective surveillance, round-the-clock. Meanwhile, you can keep them engaged and refreshed with a different set of surveillance tasks.
4. Reduce the number of screens
This may sound contradictory to e-surveillance monitoring. However, it is true that with more monitors the detection rates also decrease. It has a solution too. Today technology has opened doors for possibilities that were difficult even a few years back. By leveraging flagship surveillance tools you can fit multiple camera feeds on a single screen. As a result, the detention rate increases, and operators make sure nothing goes unnoticed.
5. Smart monitoring
A command center should figure out what their most sensitive and priority spots are. The video feed of those places should always appear on the larger monitor. For example, the live video feed of activities & traffic of the main gate in a power plant should appear on the main large screen rather than the visual of its canteen. Besides, the screens should be a little tilted just below the operator's eye level so that they don't get stained easily and can monitor for a longer period effectively.
6. Ergonomic command center
If you want your command center to be hyperactive in any given situation, you need to ensure it is healthy for operators to work longer hours. For example, it should have just the perfect lighting, comfy sitting arrangements, etc with all necessary amenities. The command centers should be located in a quiet neighborhood away from high or loud traffic areas so that they can concentrate fully on monitoring.
Rethinking enterprise e-surveillance monitoring beyond just monitoring your business
Takeaways
Setting up a command center for e-surveillance and implementing standard practices to get the superior result is easier said than done. First and foremost, it is costly to manage a command center team with an appropriate office place. Secondly, it becomes challenging for enterprises to focus on their core competencies in an effort to manage the command center operations. Therefore businesses are outsourcing their command center monitoring services to an expert & experienced company. Maxicus is serving global clients with remote command center services to safeguard their properties and for the seamless functioning of their business process. To get a call back please drop us a line here.