Categories:
Busting (un)common myths on Remote Working, BPO Jobs & Customer Service
Some believe remote working is hardly working. While others have their businesses running solely online. Some may also believe that BPOs are all about hard-selling over a phone call. While others have grown and expanded on the backs of their innovative outsourcing partners.
Many concepts and/or businesses have myths and beliefs associated with them. Some may influence decision making of users/businesses while others may be simply based a couple of interactions. More often than not, for every myth, there is a research-driven fact or a proven solution that debunks it. As we enter a new dimension of working and business, new illusions have begun to emerge about outsourcing and remote working as processes have evolved.
We rounded up some uncommon myths about remote working, outsourcing, and other related concepts. You'll find more insight (and also possible solutions for some of them) in this blog post.
Myth 1: Agents face gaps in training, leading to lower-quality engagements with customers while working remotely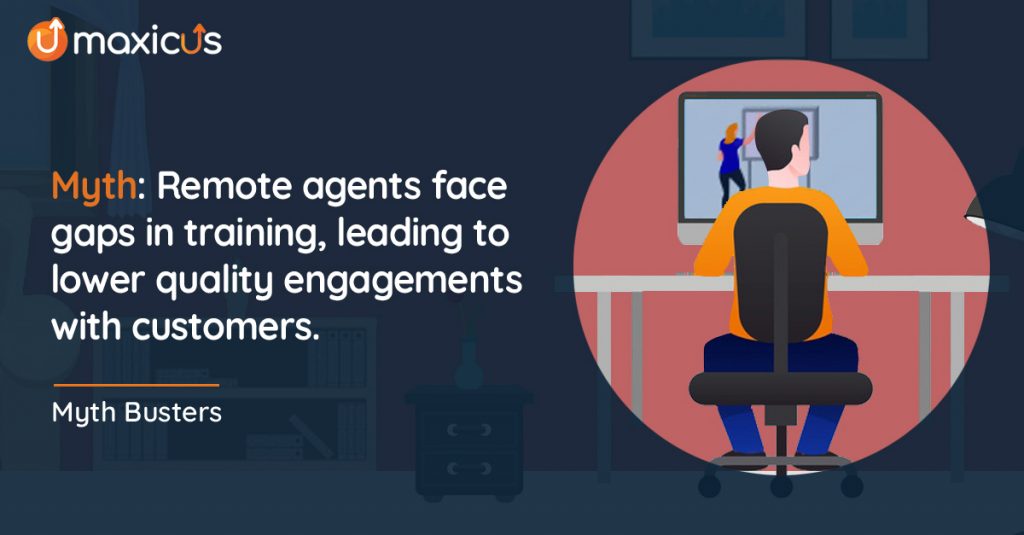 A business spends more than they earn to hire and train a support agent in the initial few months. With virtual training and online classrooms accessible at the click of a button, training agents, keeping social distancing norms intact has allowed for continued business operations for outsourcers.
Furthermore, training sessions are more efficient and productive when agents feel safe in their learning environments.
Leap, our Virtual Call Center platform is equipped with an integrated Learning & Knowledge Management tool to boost the training and onboarding of remote agents. All agents go through rigorous virtual training and assessments before deployment. At Maxicus, each agent goes through multiple rounds of training before interacting with customers.
Myth 2: With teams working remotely, your customer/company data is at risk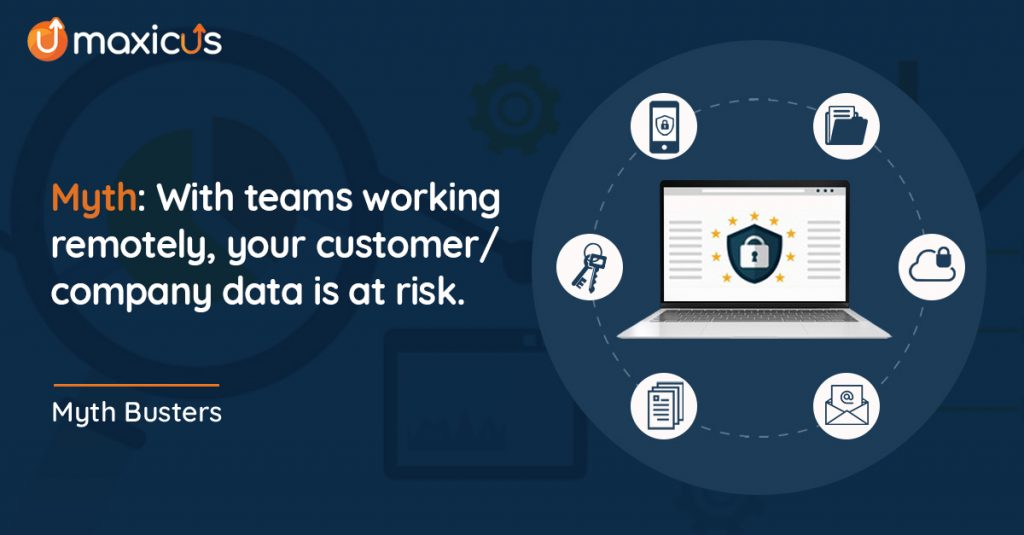 Data Security is more of a people problem than a location or technical one. With the right training and tools to ensure data security, remote working should be as secure as working from an office premise. If you have support teams working remotely, it is key that the solution you employ ensures that your customer and company data are secure.
For example, Leap promotes airtight security of data with features like AI-based agent identification, remote system wipe, periodic barge-ins, and encrypted data transferring.
Remote working brings forth its own set of complications for cyber-security. And it is important that every individual handling customer or company data is trained on how to take the basic measures to mitigate these risks.
Myth 3: Remote workers are lonely and less productive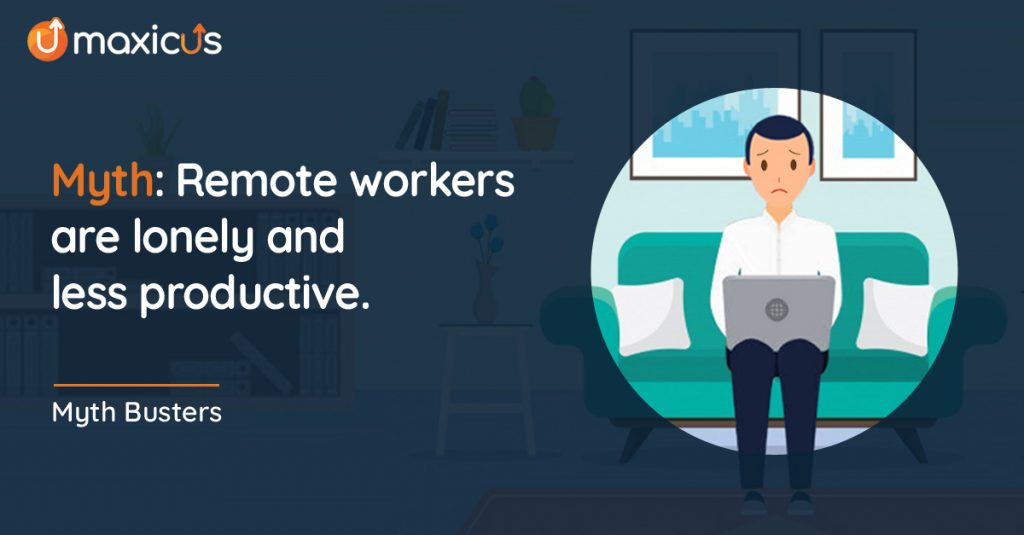 Remote employees are usually more productive, given their choice of environment, and the flexibility they are entitled to. With increased comfort, time (from not having to commute), and the ability to structure their own day, remote workers are more productive and efficient than their counterparts.
More often than not, working remotely blurs the lines between 'work' and 'personal time'. A study by says that over 22% of employees claim that unplugging after work is one of the biggest challenges they face while working remotely.
Work From Home: Tips & Best Practices
Because working remotely involves not having colleagues to chat with during work hours, it may imply that people that work remotely are lonely. But with collaborative technologies like video conferencing, and workplace messaging, employees have learned to communicate better to remain connected.
Myth 4: It is difficult to track the productivity of support teams that work from home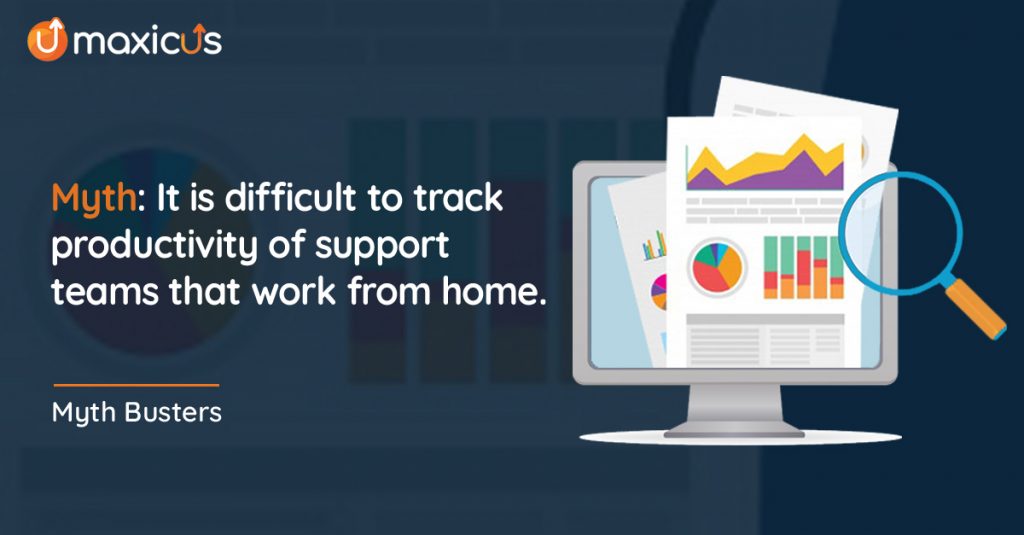 Micro-managing has never done anyone any good. But at the same time, ensuring that teams are as productive as can be is key for every manager/supervisor. With support teams working remotely, it is even more important to keep an eye out so as to not turn away customers seeking help. With the right tools and training, remote support teams can operate as well as those that worked in offices.
The best employee monitoring tools are usually flexible and transparent workflows, empathetic leaders, and a supportive workplace.
Apart from constant communication and checking up on adherence to deadlines and daily meetings, certain tools, and tech can also prove to be handy. Leap, for one, allows for regular monitoring and automated reports of the interactions completed by remote agents. Using the best of analytics and AI, Agent Productivity is mapped effortlessly.
Myth 5: Thanks to conversational AI, voice support is no longer important in customer service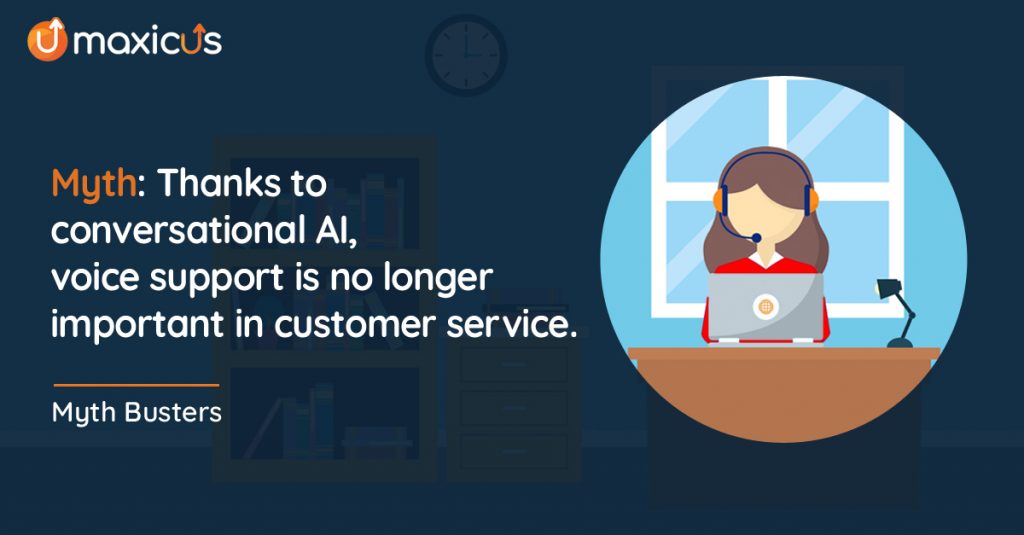 Artificial Intelligence has grown multifold in the last few years and continues to show great promise. While it compliments contact center operations and eases customer interactions for agents, it cannot be used as a replacement for a human agent.
Especially in the time of a crisis, like the on-going pandemic, over 58% of customers prefer to call for support rather than use other channels. – Accenture Report
Even as AI continues to be embedded in daily interactions and communication, a human conversation still remains the primary source for comprehending and solving complex customer concerns. For AI to replace human support altogether, machines will have to be taught to understand and empathize with customers.
Why agent support is important for customer service in the era of automation
Myth 6: Outsourcing is not an ideal business decision for start-ups or SMEs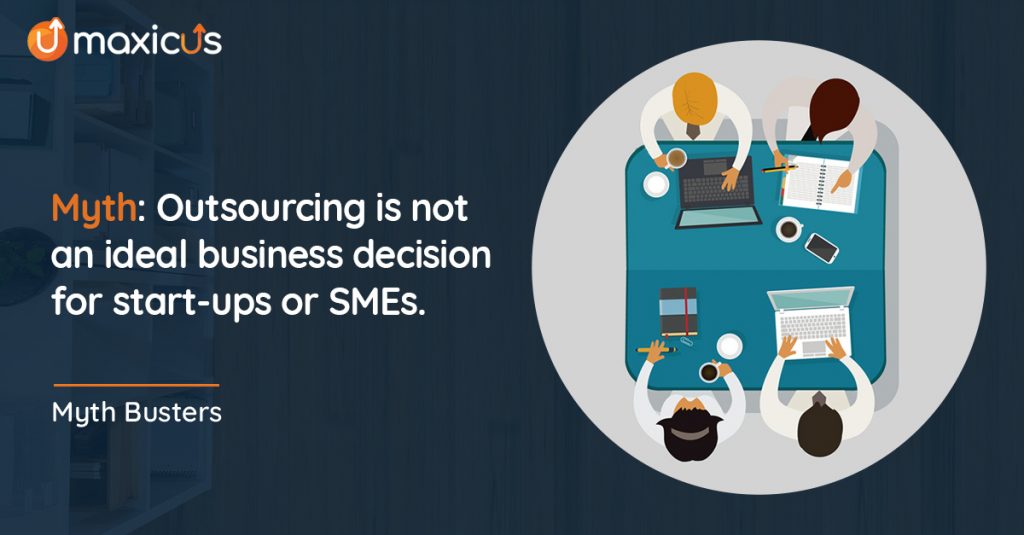 The only difference between outsourcing operations for a small or large company is the size of the team that works for you. Agility and size are two key characteristics of a small, growing business – giving them an edge when it comes to adopting new tech and frugal approaches to business. This not only makes them fit for IT and BPO outsourcing but also helps teams focus their core capabilities.
As of 2019, more than one-third of small business Clutch surveyed had outsourced their business processes, and over 52% of them planned to do so in the near future.
Not only do outsourced business processes like customer service and back-office support cut costs for small businesses, but also widen talent pools for better operations for the brand.
Related Article: Technical Support For Startups: Finding The Best Support For Your Business
Myth 7: Call center or BPO jobs are dead-end careers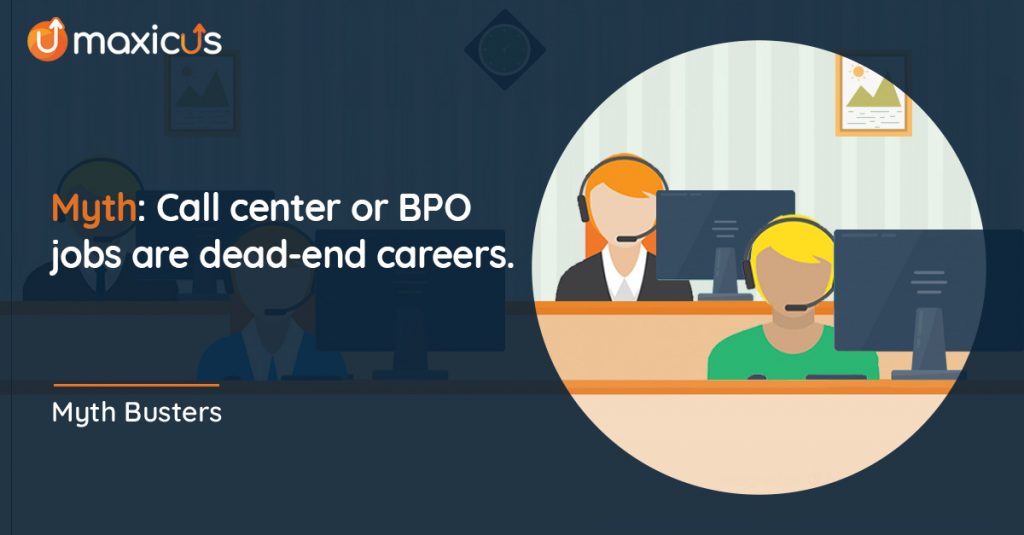 For most, a BPO job is a starting point. The outsourcing space is known for boosting the development of internal talent, as work requires leaders across industries and verticals. With training programs and specialized coaching for employees that show promise, BPO and call center jobs can be a great start to developing a career in almost any sphere of business.
For example, Maxicus' development program, Boost, enables agents to be trained in areas like people and team management, interpersonal skills, sales coaching, etc.
A career in customer service or a contact center allows you to inculcate transferable technical and interpersonal skills; from product management, sales, and marketing to develop excellent communication skills.
All we're saying is…
…not everything you might have heard of stands true when it comes to outsourcing and even remote working. These are just some of the myths that have been proven that they are just so.
If this blog post has been able to justify your curiosity, and you're looking for outsourcing solutions for your business, check out our solution portfolios, and drop us a line here.