Categories:
5 Key Benefits of Document Verification Service in Insurance You Need to Know
Insurance is all about trust. When you pay your premiums, you trust that your insurer will be there for you when you need them the most. However, more than trust is required for the complex world of insurance. That's where Document Verification Service in Insurance comes into play. In this comprehensive guide, we will explore the significant benefits of this service, how it can address your concerns, and why it's a game-changer in the insurance industry.
The Pain of Traditional Verification
Before diving into the benefits of Document Verification Services in Insurance, let's understand the pain points traditional verification methods bring. In the past, insurers relied heavily on paperwork and manual processes to verify customer information. This approach came with several challenges:
1. Inefficiency
The manual verification process is slow and labor-intensive. It often involves sifting through piles of paperwork, leading to delays in policy issuance and claims processing.
2. Error-Prone
Humans are not infallible. Mistakes can easily creep into the verification process, resulting in incorrect data and financial losses for insurers and policyholders.
3. Fraud Vulnerability
Fraudulent claims and applications can slip through the cracks when relying solely on manual verification. This can drive up insurance costs for everyone.
What Can Go Wrong?
Now that we've identified the pains of traditional verification let's delve deeper into the agitation these issues can cause.
Imagine the frustration of a policyholder waiting for their claim to be processed while their paperwork is stuck in a never-ending loop. Picture the disappointment when a legitimate claim is denied due to a simple clerical error. Worst of all, think about the anger when you discover that your insurance premiums are increasing because fraudulent claims go unnoticed.
These are the real-world problems that insurance companies and their customers face. But there's a solution that can turn the tide.
The Solution – Document Verification Service in Insurance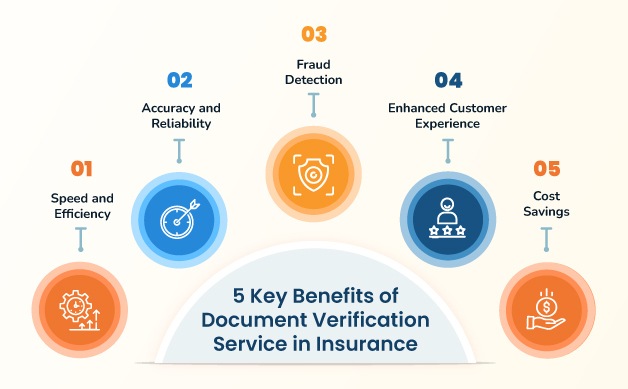 Enter Document Verification Service in Insurance, a modern approach that harnesses technology to address these pain points and bring benefits to the insurance industry.
1. Speed and Efficiency
With Document Verification Service, the entire verification process becomes lightning-fast. Digital tools automate data collection and validation, reducing processing times from weeks to minutes.
2. Accuracy and Reliability
Say goodbye to human errors. Automated verification ensures that the data you receive is accurate and reliable, eliminating the risk of costly mistakes.
3. Fraud Detection
Document Verification Service is a formidable weapon against fraud. Advanced algorithms can detect inconsistencies and red flags, helping insurers eliminate fraudulent claims before they become a burden.
4. Enhanced Customer Experience
Policyholders benefit, too. Quicker processing times mean faster claims payouts and smoother interactions with insurers, improving overall customer satisfaction.
5. Cost Savings
Efficiency, accuracy, and fraud prevention translate into significant cost savings for insurance companies. These savings can be passed on to customers through lower premiums.
Document Verification in Action
Let's walk through a typical scenario to see how Document Verification Service in Insurance works:
Application Process:

A customer applies for an insurance policy online. During the application, the Document Verification Service collects and validates their information in real time.

Instant Approval:

The insurer can quickly assess the applicant's eligibility thanks to the automated verification process. This reduces the waiting time for policy approval.

Claims Processing:

Document Verification Service can cross-reference the submitted documents with existing records when a policyholder files a claim. This speeds up the claims process and ensures accuracy.

Fraud Detection:

Suspicious claims trigger automated fraud detection algorithms. This helps insurers identify potentially fraudulent activities and take appropriate action.
Benefits Beyond the Basics
While the five key benefits mentioned above are crucial, Document Verification Service in Insurance offers even more advantages that deserve attention.
1. Regulatory Compliance
Insurance is a highly regulated industry, and compliance with government regulations is paramount. Document Verification Service ensures that insurers meet all compliance requirements, reducing the risk of legal issues.
2. Data Security
The digital age has brought concerns about data security to the forefront. Document Verification Service employs robust security measures to protect sensitive customer information, reducing the risk of data breaches.
3. Scalability
As insurance companies grow, they need scalable solutions. Document Verification Service can easily adapt to increasing volumes of applications and claims without compromising efficiency.
4. Real-time Updates
Customers appreciate transparency. Document Verification Service allows policyholders to track the status of their applications and claims in real-time, providing peace of mind and reducing inquiries to customer service.
The Future of Insurance Verification
The adoption of Document Verification Services in Insurance is not just a trend; it's a necessity. As technology advances, traditional verification methods will become increasingly obsolete. Here's how we envision the future of insurance verification:
Integration with Emerging Technologies
Document Verification Service will seamlessly integrate with emerging technologies like artificial intelligence (AI) and blockchain to enhance accuracy, efficiency, and security.
Customization
Insurers can tailor Document Verification Services to their needs, ensuring a personalized and efficient verification process.
Global Reach
Document Verification Service will transcend borders, allowing insurance companies to quickly verify international customers' documents, opening up new markets.
Conclusion
In the ever-evolving insurance industry, Document Verification Service is a game-changer. It streamlines processes, enhances accuracy, and safeguards against fraud, benefiting insurers and policyholders. The days of slow, error-prone verification are behind us, replaced by a future of efficient, reliable, and secure insurance services.
So, the next time you consider an insurance policy, remember the power of Document Verification Service. It's not just about trust; it's about trust backed by technology, making your insurance experience smoother and more secure. We can only expect even more significant benefits and innovations as this service evolves. Embrace the future of insurance verification, and you'll reap the rewards of a more efficient and trustworthy insurance experience.