What is the personalized customer experience?
To put it simply, personalized customer experiences are all about treating customers as individuals. In the age of hyper-consumerism, it is imperative to keep your customer close to you. As they are spending money on your product or services, they expect businesses to be there for them when needed. Be it pre-sale or post-sale, the primary objective of a customer support agent is to make their experience pleasant with the brand.
Now, let's talk about how you can create personalized customer experiences.
When it comes to fostering customer relationships, addressing them with their names is the first and most crucial step in the customer journey. They appreciate when they are being addressed by their names and feel important to the brand. Besides, it is only logical to remember their preferences, likes, dislikes to make them know that they are valuable to you. Delivering customized seamless experiences can turn them into your brand advocates in no time. Thus, businesses are quickly moving towards personalizing customer experiences across all channels.
Today, brands are dodging the one-size-fits-all approach as it is impacting heavily on their customer retention metrics. A single SMS to all customers, will not work anymore. They appreciate perfectly tailored SMS for them, which they can relate to. Your customers want you to make them feel important. For example, send them birthday greetings via SMS. They will ponder if you have remembered them and at the time of choosing, these little things will keep you one step ahead.
Customers know their worth. They are super-empowered and high on information. They are always in control of their relationship with the brand. Hence, they demand a customized digital experience from brands throughout their buying journey.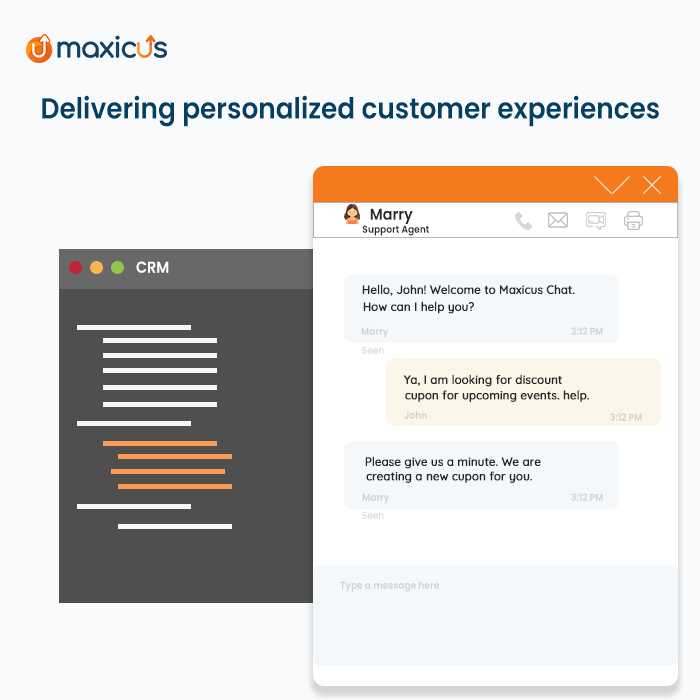 While doing business in a noisy market and customers want instant gratification, brands need to take extra efforts to attract customers in an overcrowded field. For instance, you are at a party and dozens of people chattering around you. For you, those conversations will blur out and it is only the background noise. However, if someone calls your name, ears perk up and tune into that particular conversation. It will rise above all the chattering going around you as it is relevant for you. In the same way, attaching the personal touch to customer experiences can do wonders for businesses.
Why is personalized customer service important?
Delivering personalized customer experiences can make brands stand out in a congested market. Here's a look at the importance of personalized customer experiences.
Adds to your bottom line
Personalized customer experience is often underrated but adds much more to your business goals. According to a recent survey, 66% of consumers believe customer service is the biggest spending motivator, and companies that prioritize the customer experience generate 60% higher profits than their competition. (Source)
Shows customers that you care for them
When customers receive personalized service from you, it registers in their heads. 76% of customers believe that customer service is a representation of how a brand values them. (Source) By proffering personalized experiences consistently, set an example that you care for your customers and exceed their expectations.
Personalized service helps you to stand out in the market
Customers have to choose from many and personal touch in services can set you apart from your competitors. Your competitors may offer the same product or services at a lesser price, but customers will choose you because you value them and make them feel special while doing business with your band. For a majority of consumers, excellent customer service is enough to sway their decision for you and it comes from delivering personalized experiences. Don't go by words, go with facts and act on them.
86% of buyers are willing to pay more for a great customer experience. (Source)
Works as a deal-breaker
Gone are the days, when brands used to rely only on their products or services as the main competitive differentiator. The times have changed, now they are only competing to deliver best-in-class customer experiences. In the era of the experience economy, personalization is out doing other traditional approaches and helping businesses to advance their relationship with customers. The numbers are speaking for themselves.
48% of customers spend more when their experience is personalized. 88% of brands claim that they have seen a moderate improvement in their businesses after implementing customer experience personalization tactics and 33% feel that they are confident about the tools that manage personalizing customer experiences.
How to create personalized customer experiences by enhancing employee skill sets?
Your employees determine the course of your business's future. Therefore, upskilling and enabling them to deliver personalized services should be at the top of your customer experience strategy checklist. Here are a few ways how you can empower your agents to deliver personalized customer experiences.
Begin with by meeting their needs
As they say "charity begins at home", similarly, in order to make your customers happy, first you need to empower your agents by meeting their basic needs. Suppose, asking your customer support agents to go above and beyond to help customers when they don't have the proper knowledge or feel supported by the management.
While businesses are looking to drive a differentiated CX, it is imperative to understand that agents need to be engaged in the process. Organizations need to find ways to make their employees educated about the process so that they can confidently handle the customers and put extra effort into resolving their problems. Besides, brands need to conduct employee experience programs to close the gap between agents and the management.
Train agents to be customer-facing
It is pivotal to train your employees to deal with customer emotions. When your agents will listen to the customers well, understand their concerns and empathize with them, they will create a personalized experience for the customers. Employees need to be trained to handle customers and make them feel valued in whatever circumstances. How your customer support agents respond to angry or upset customers will determine your customer satisfaction and retention rates. The last thing any customer wants to interact with a bot-like representative, giving them canned replies without understanding their concerns.
Avoid being formal all the time
It is good to be formal while interacting with customers but it becomes difficult for businesses to connect with them. In order to build a personal relationship with consumers, it is imperative to make the first impression count. For example, having knowledge about their preferences, or even address them with their first name. These approaches will drop the awkwardness between both employees and customers. Thus, they will feel more comfortable with your customer support representative as if they are talking to their friend.
Implement customer feedback
It is important to know what your customers want and put their preferences first. Asking them for their feedback is one thing, but training your employees accordingly to implement those is another. If a large number of customers are giving the same feedback, it is wise to implement those to good effect. It certainly improves the brand-customer relationship.
68% of consumers abandon a business because they feel the brand does not care about them. (Source)
Provide useful customer insights to your agents
In any job, employees need to know about their customers or clients so that they can engage them better. Similarly, when it comes to delivering personalized customer experiences, knowing your customers, their behaviors, preferences, previous interaction with the brand, etc becomes important.
Equipping your agents with relevant and up-to-date customer insights is the most effective way to improve customer experience. These insights help agents to understand the customer's needs better so that they can personalize the experience for each and every customer.
When a customer contacts the customer support team, they expect the agent to have the full case background and also know about their profile. Indeed, nothing less than that. They do not want to waste time explaining, they just want their problem to be solved with immediate effect. Integrating your CRM with the process can make agents' life a bit easier. It will empower agents to deliver highly-personalized customer experiences as they will have the full customer journey details at their disposal.
Put your agents in customers' shoes
By educating and training customer service representatives about the customers' journey with the brand and the experiences they expect, businesses can help to bolster the notion that every agent has an impact on CX. Brands should take initiatives to captivate and promote diligence among agents to proffer aspirational customer experiences.
Put them in customers' shoes and train them to deepen empathy for the inconvenience that customers face.
Brands can implement tried and tested approaches like mock calls, buddy ups, listening stations, etc are great ways to train your agents to step into the customers' shoes and handle such cases.
Conclusion
Today, customers are hyper-connected and high on information – rapidly transforming them into smart buyers. As a result, delivering top-notch personalized customer experiences is the only competitive differentiator among businesses.
The competition is fierce in the market, thus companies are discovering and inventing different maneuvers to keep their customers engaged and loyal. If successfully executed, personalized customer experiences can prove to be the most effective ways of making customers happy and gaining higher returns. With your agents educated, upskilled, motivated, empowered, and enabled, you can deliver positive personalized experiences to your customers and hone the brands' bottom line.